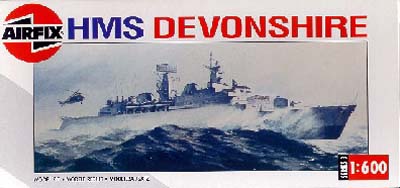 Airfix 1/600 Scale HMS Devonshire
Review by Stuart Robottom
My interest in the Royal Navy led me to buy this shop damaged Devonshire. I decided to build it as Glamorgan, one of the ships used in Operation Corporate -- the Falkland Islands campaign. An Exocet hit her after a period of shelling positions ashore and through good luck as well as good management was not extensively damaged. I did not modify the kit from what was presented; I only used the "Glamorgan" decals instead of the "Devonshire" ones.
Opening the kit reveals the hull to be visually accurate. The distinctive high freeboard amidships is represented, with the 1960s style RN bow. The quarterdeck has the Sea Slug launcher to be placed there, with missile loading doors being molded detail on the bulkhead forward of the launcher. I have not seen any replacement Sea Slug launchers available, and this launcher is simple but effective. The same cannot be said for the Sea Cat launchers! I replaced these with Skywave fittings. This improved the model's appearance markedly. In addition I used Skywave Exocet launchers instead of the supplied ones. Oddly, the kit launchers appear to be 1:700 while the Skywave 1:700 fittings seem closer to 1:600!
The two superstructures are quite sparsely detailed. They have virtually none, with only a few scuttles shown as circles. This really does detract from the model in my opinion, but it is probably to be expected on a kit of this vintage (my model is marked 1963). The foremast has reasonable detail when completed, though a bit of care must be taken to make it fit correctly. The main mast was a bit too simple for my liking and I replaced the supplied Type 965 radar with a Skywave 'double bedstead' offering, as I really did not think the kit piece suitable.
When painting the model I tried to highlight the planked deck area to contrast with the steel decks. I tried some weathering of the ship and consulted photos on the web to see where stains appear. I was not happy with the attempt - another case of weathering too much!
Overall the kit is an affordable County class DLG kit that is not of very high quality but if worked on could look impressive due to its high freeboard and twin funnels. There are many variations of the original, with some ships still serving several of the world's navies. Modifications to make the kit as Glamorgan could involve anything from the original appearance, or her post-Falklands appearance, or her conversion to the helicopter carrying command ship role she was last modified for.
Webmaster's Note: Photoetch replacements for the Sea Slug launcher and other parts for the Devonshite are available on White Ensign Models new Ultimate Modern Royal Navy Sets #1 and #2. The parts below are from an older release of this kit, which is missing one funnel half and has a broken main rotor.


Click on thumbnail for a full-size picture