1/350 Admiral Kuznetsov
Flight Deck Vehicles
Photo Etch Set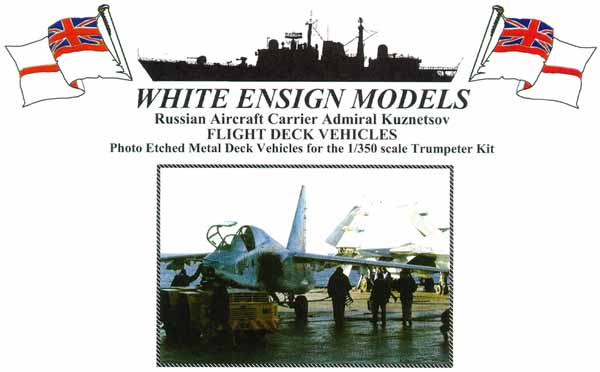 by White Ensign models
Reviewed by Timothy Dike
Here are some accessories you don't see everyday. Support trucks and deck equipment for the Admiral Kuznetsov. Not your typical set, this one includes some unique vehicles to populate the deck of your Russian Carrier. The set is relief etched to bring out the windshield and wheel details on the vehicles.

Click to enlarge images
Besides the vehicles, there are tow bars and step ladders for maintenance. Two lengths of rigging is supplied so you can display your crane raised or lowered.
Close ups of the fret details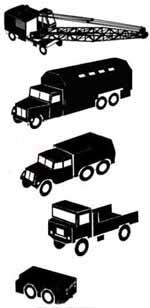 Included in this set:
Fire Truck
Flatbed Truck
Aircraft Tow Tractors
Salvage Crane Cab Assembly
Salvage Crane Jib
Crane Rigging (Raised Jib)
Crane Rigging (Lowered Jib)
Covered Trucks x2
Maintenance Step Ladders
Aircraft tow bars
The instructions are 3 pages of well detailed drawings and assembly guides. They show how the photo etch is folded and indicate that some plastic should be used to help produce solid vehicles. I would have liked to see some dimensions or a template for these items. But it shouldn't be too hard to figure out if you just measure the photo etch.
Conclusions: This is another cool photo etch set for the modeler It offers some unique items that you won't see elsewhere and will certainly make your Kuznetsov stand out in a crowd. This is set #3581 retailing for £8.30 a perfect companion for the Admiral Kuznetsov #PE 3537 and Airwing Fittings #PE 3580 sets.