1/350 Admiral Kuznetsov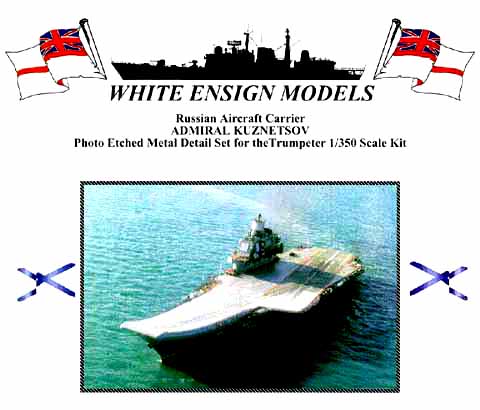 Photo Etch Set
by White Ensign models
Trumpeter has been on a roll lately with a flood of new 1/350 kit releases. Their new Admiral Kuznetsov is another welcome addition to the 1/350 ship modelers crowd. Many modelers will be content to build her as is, but most of you read this site because you want to take it a step further. This new set designed by Peter Hall doesn't just take you a step further, it takes you a leap forward with enough detail options to turn you ship into an accurate scale miniature of the real ship. The set contains two frets, both relief etched of the typical quality that White Ensign Models is know for.
Fret A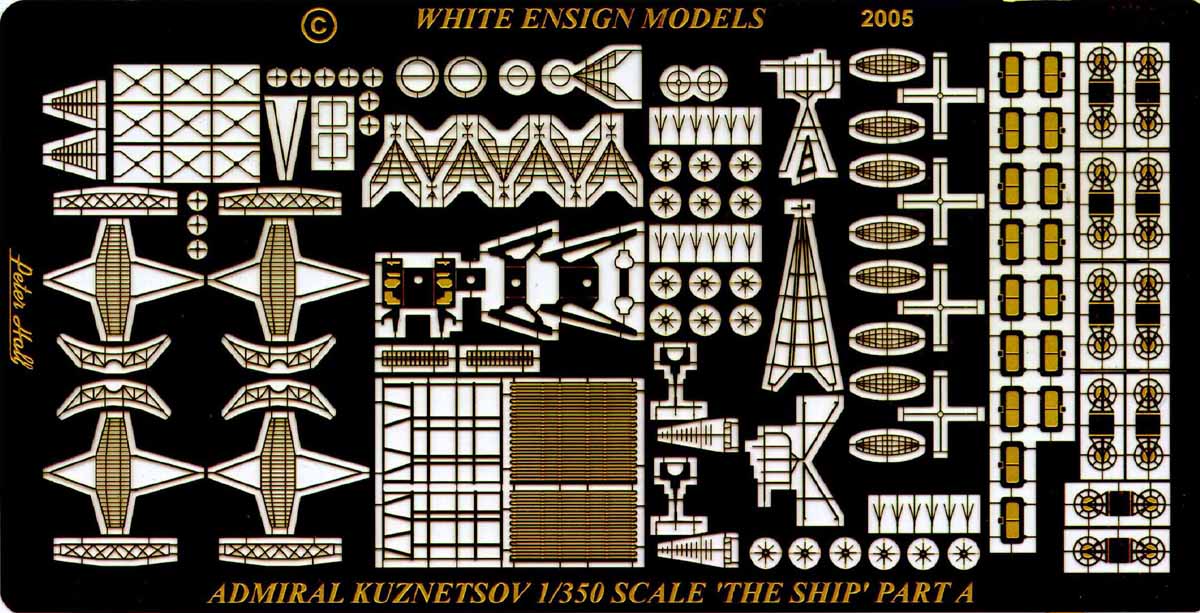 Close ups of the fret details

The first fret includes the radar and Antennas. They are relief etched and will go a long way towards fixing the biggest weakness of the Trumpeter kit. The mess is finely etched and the frame work stands out in contrast. The Fregat assembly is well designed and is very detailed. The fire control radar parts will turn that plain plastic part into a highly detailed assembly that will really draw attention.
Fret A Contains:
Funnel Mounted Antenna Dipoles
Kashtan Mounting Antenna Dipoles F20
Topaz (Strut Pair) Antenna Back Frame
Topaz (Strut Pair) Antenna
Topaz (Strut Pair) Antenna Mounting Frame
Island Forward DF Antenna A28/29
Kashtan Mounting Small Dipoles F19
Funnel Aft DF Antenna Loop A32/E12
Cake Stand' Homing Beacon Antennas F15
Fregat Radar Centre Pintle
Fregat Radar Small Mounting
Fregat Radar Large Mounting
Fregat Radar IFF Mounting Plate
Fregat Radar IFF Antenna
Fregat Radar Large Rear Frame
Fregat Radar Small Rear Frame

Fregat Radar Large Front Plate
Fregat Radar Small Front Plate
Funnel Mounted UHF Antennas
'Cake Stand' DF Loop Antenna A22
Pole Antenna Spreaders for D35
ESM Antenna Poles
ESM Antenna Dipoles
Island Port Aft Upper Antenna
Island Port Aft Upper Antenna Brace
Starboard Bow Antenna
Island Starboard Aft Upper Antenna
MR360 Podkat Top Antenna F4
MR360 Podkat Dish Antenna Cross
Island Superstructure Doors
Cable Reels .
The second fret includes the railings, safety nets, and deck edge rails. There is a multitude of platforms and braces to accent the kit parts. The folding whip antenna can be displayed up or down. There are plenty of life raft canisters to allow you to realistically mount them to the sides of the ship. For the deck there are arrester wire guides to add a little depth to that flight deck.

Fret B

Close ups of the fret details

Check out the relief etching on the bow stars and crest!
Fret B Contains:
Deck Edge Foot Rails
Crane Rigging
Short Handrails
MR360 Podkat Platform Rails
4 Bar Superstructure Rails
4 Bar Standard Rails
3 Bar Platform Rails
2 Bar Half Rails
Elevator Retractable Safety Rail
Flight Deck Aft Safety Net
Flight Deck Angle Safety Net C11
Flight Deck Forward Safety Net
Port Forward Klinok SA-N-9 Launcher Net
Folding Safety Barrier Stbd Klinok Launcher
Folding Safety Barrier Section D23
Folding Safety Barrier Sections D26
Folding Safety Barrier Sections D3 & D4
Folding safety Barrier Sections D7 & D8
Bridge Roof HF/DF Antenna
Funnel Lattice Yardarms
Lattice Yardarm Walkways
Bridge Wing Supports
Island ECM Platform Supports
Flyco Position Supports
Island Aft Pole Antenna Yards for E20
Cake Stand' Top Rails
Elevator Folding Safety Rails
Deck Edge Folding Safety Barriers (Short)
Deck Edge Folding Safety Barriers (Long)
Port Flight Deck Edge Platform (Large)
Port Flight Deck Edge Platforms (Small)
Island Starboard Vent Grills

Island Port Vent Grills
MR360 Podkat Platform Support (Port Aft)
MR360 Podkat Platform Support (Stbd Aft)
MR360 Podkat Platform Supports (Forward)
Folding Antenna Mountings (Island Aft)
Folding Antenna Mountings
Funnel Yardarm Inner Lattice Antennas
Funnel Yardarm Outer Lattice Antennas
Crane Fittings
Bow Stars
Bow Crest
Funnel Starboard Antenna Mounting
Island Aft Pole Antenna Supports E19
RBU12000 Linkages
Elevator Well Catwalk Railing
Elevator Platform Cables
Folding Antenna Platform (Sponson)
Loud Speaker Faces
QR Doors
Long Inclined Ladders
Sky Watch Plate Corner Antennas
Arrester Wire Guides
Arrester Wire Deck Feeds
Inclined Ladders
Double Width Vertical Ladders
Standard Vertical Ladders
Short Inclined Ladders
Lower Elevator Deck Railings
QR Doors
Folding Antenna Platform (Ramp)
Life Raft Canister Holders (Starboard)
Life Raft Canister Holders (Port)
The instructions are very extensive 8 pages of well detailed drawings and assembly guides. They are very well written and illustrated and show not only how the various photo etch parts fold up, but also how they integrate with the kit parts.
Conclusions: This is another great photo etch set, the etching is extremely fine and the virtually every possible part you would need is included. This is set #PE 3537 is priced at £34.00 a fair price for all the details that are included. If you are still sane after adding all the detail parts in this set then try your hand at detailing the airwing and adding deck equipment with companion sets WEM 1/350 Admiral Kuznetsov Airwing Fittings #PE-3580, and WEM 1/350 Modern Russian Carrier Deck Equipment #PE 3581.