1/350 Admiral Kuznetsov
Air Wing Photo Etch Set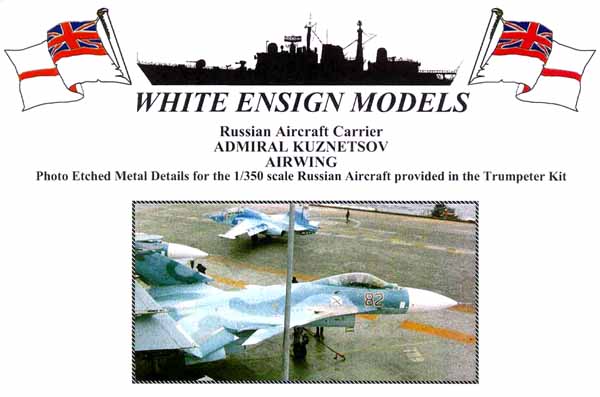 by White Ensign models
OK, you have the Admiral Kuznetsov photo etch set and have not been driven over the edge with the tiny details. Then you probably should hit the back button on your browser before reading any further. Too late, well don't say I didn't warn you. The aircraft included with the Trumpeter Admiral Kuznetsov carrier are very nice. However their is room for improvement and this set will certainly do that with it's interior details.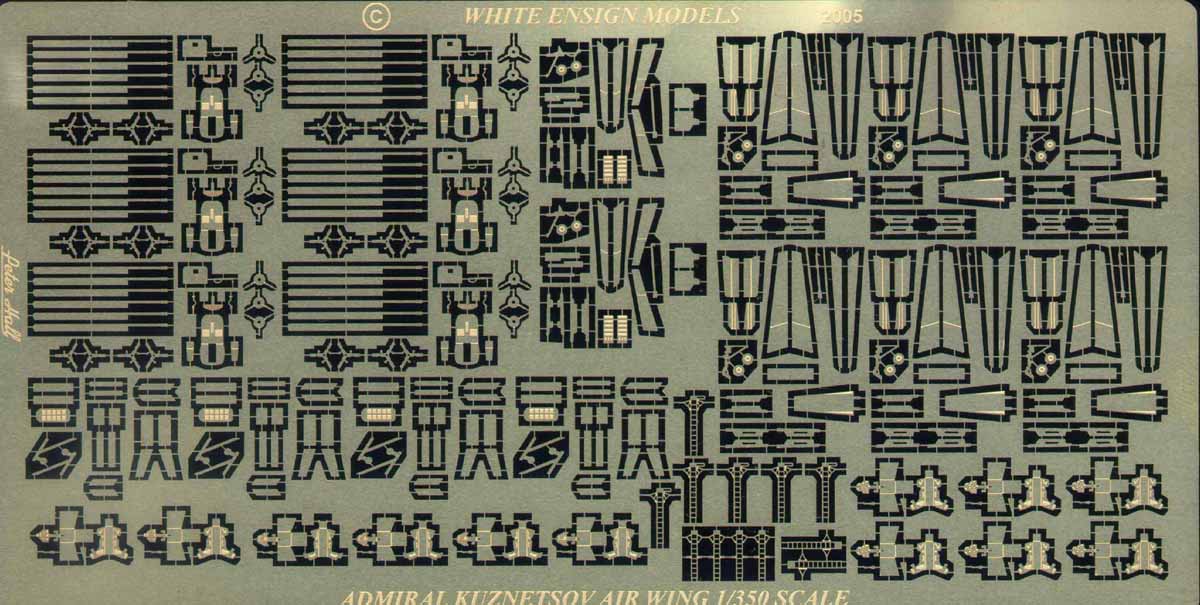 Click to enlarge images

Close ups of the fret details

The aircraft details even include relief etch instrument panels with gauges etched on. Injection seats are provided for each jet aircraft types all relief etched with not only the fold lines, but also the surface details that will make them stand out. Not to be overlooked are the exterior details like flaps and leading edge slats. Weapons hardpoints and landing gear doors will give those 350 aircraft a scale appearance. The Helicopter parts include a pretty intricate mechanism for the counter rotating rotors. Separate doors will allow you to open up the interior of your KA-27 Kamov.
Included in the set:
Kamov Ka 27 Interior & Exterior Parts x 6,
Mig 29K Exterior Parts x 2
Su 33 Exterior Parts x 6
Yak 141 Exterior Parts x 4
Mig 29K Interior Parts x 2
Yak 141 Interior Parts x 4
Su 33 Boarding Ladder x 6
Yak 141 Boarding Ladder x 4
Mig 29K Boarding Ladder x 2
Su 33 Interior Parts x 6
The instructions are 4 pages of well detailed drawings and assembly guides. They include drawings of the kit parts and where the photo etch parts fit with them.
Conclusions: This is another extreme photo etch set, not for the faint of heart. But a must have for die hard detailers who just can't get enough. This set goes well with the Admiral Kuznetsov #PE 3537 set. This is set # PE 3580 retailing at £11.02 or play it smart and get this set with the #3537 set together as the 1/350 Admiral Kuznetsov - The Ultimate set #PE 3584 at a discounted price of £40.51.