USS Nimitz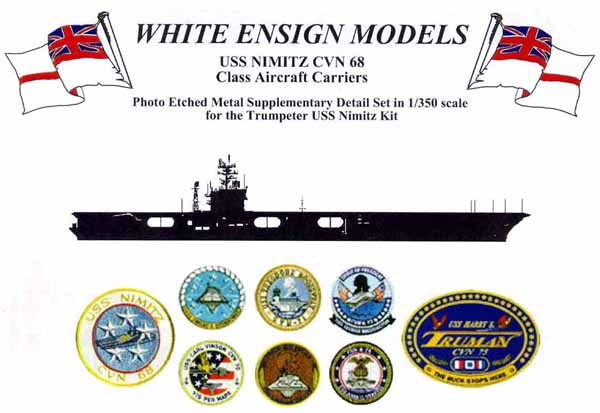 "Refit Part"
1/350 Photoetch set
If your building the new Trumpeter 1/350 USS Nimitz, then you already have the 1/350 USS Nimitz the ship set from White Ensign Models on your list. This one also belongs on your list if you wish to do a later version of the Nimitz or it's sisters after 1975. Or if you want to add some of those awesome perforated walkway bottoms for the catwalks. This set is not a stand alone set, it is designed to supplement the above set.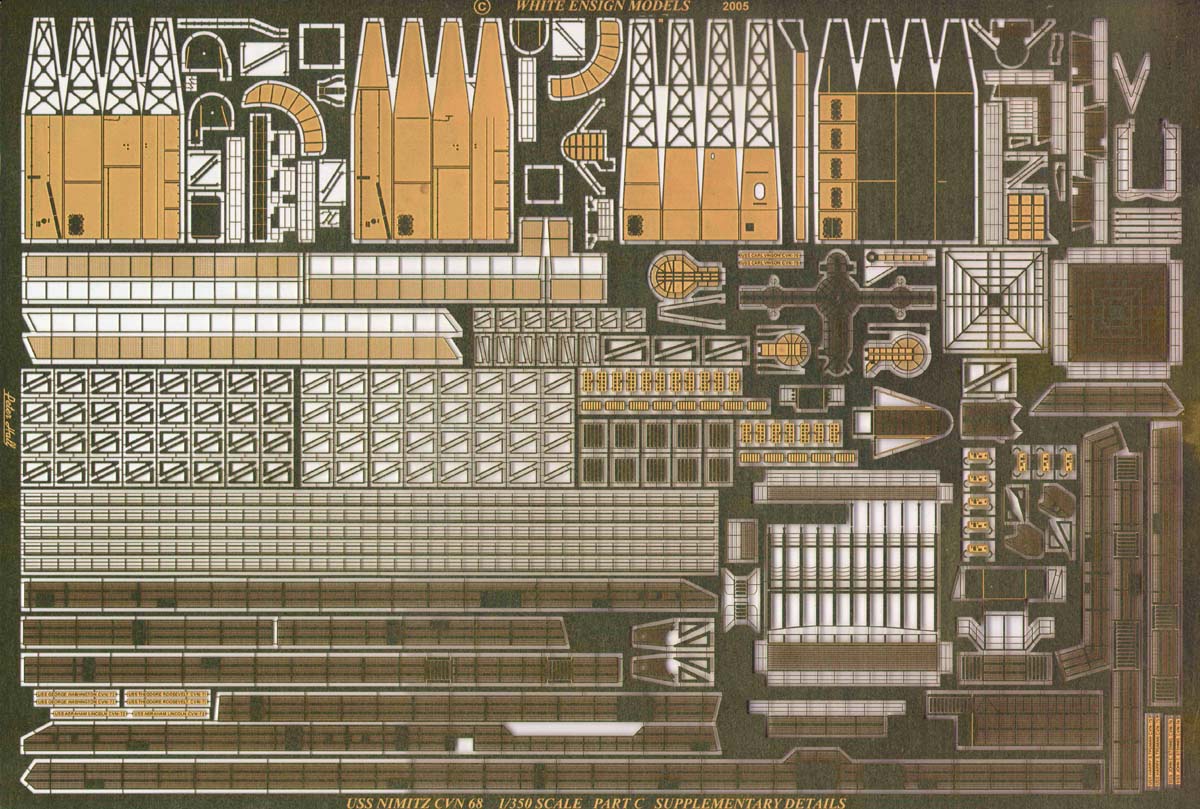 Click to enlarge images
Four distinct radar mast towers are included for The Eisenhower and Nimitz late fits, as well as the typical tower used by the Washington, Stennis, Vinson, Roosevelt, Lincoln, and Truman. These are fully detailed with ship specific platforms and are relief etched with doors and brace detail clearly visible. You also get parts to make the Ordnance Overboard jettison ramps and the necessary catwalk modifications. A stern boat dock assembly is a must have for later versions of this class. Other upgrades include SLG 17 platform and ECM platform. Another noteworthy option is the catapult operators hatch with hinge detail that you can display in the open position.
Close ups of the fret details

The full list of parts on the fret is included below:
INSTRUCTION
The instructions are 7 pages of well detailed drawings and assembly guides. They are very well written and illustrated and leave little doubt about how the brass is folded up and where it goes.
Conclusions: This is an excellent photo etch set, the etching is typical of the latest high quality releases coming from the folks at White Ensign Models. It is a great compliment to the WEM 1/350 USS Nimitz - The Ship set. This is set #PE 3568 is priced at £27.66 a great price for all the details that are included.

You can save some money and cut to the chase and get the the Ultimate Set #PE 3539 which contains both the set #PE 3538 and #PE 3568 for £55.32 a savings of £5.96 on the combined prices.

In addition don't forget to check out the Airwing detail set.