USS Nimitz
"The Ship"
1/350 Photoetch set
by White Ensign models
If your building the new Trumpeter 1/350 USS Nimitz, you need to take a look at this set designed for it. White Ensign continues offering high quality etching for modelers. This one will definitely do the ship justice. Each fret is signed by Artist Peter Hall who has not only faithfully reproduced everything from Radar to Railings, but done so in an extremely fine fashion. This set is designed to upgrade the ship as portrayed in the kit, plus additional parts for the USS Eisenhower before 1975. There are two frets in this set, a small one pictured below with the bulk of the radar and antenna and a larger fret with the safety nets and mast parts. Both are relief etched to bring out the details.
FRET 2
Fret 1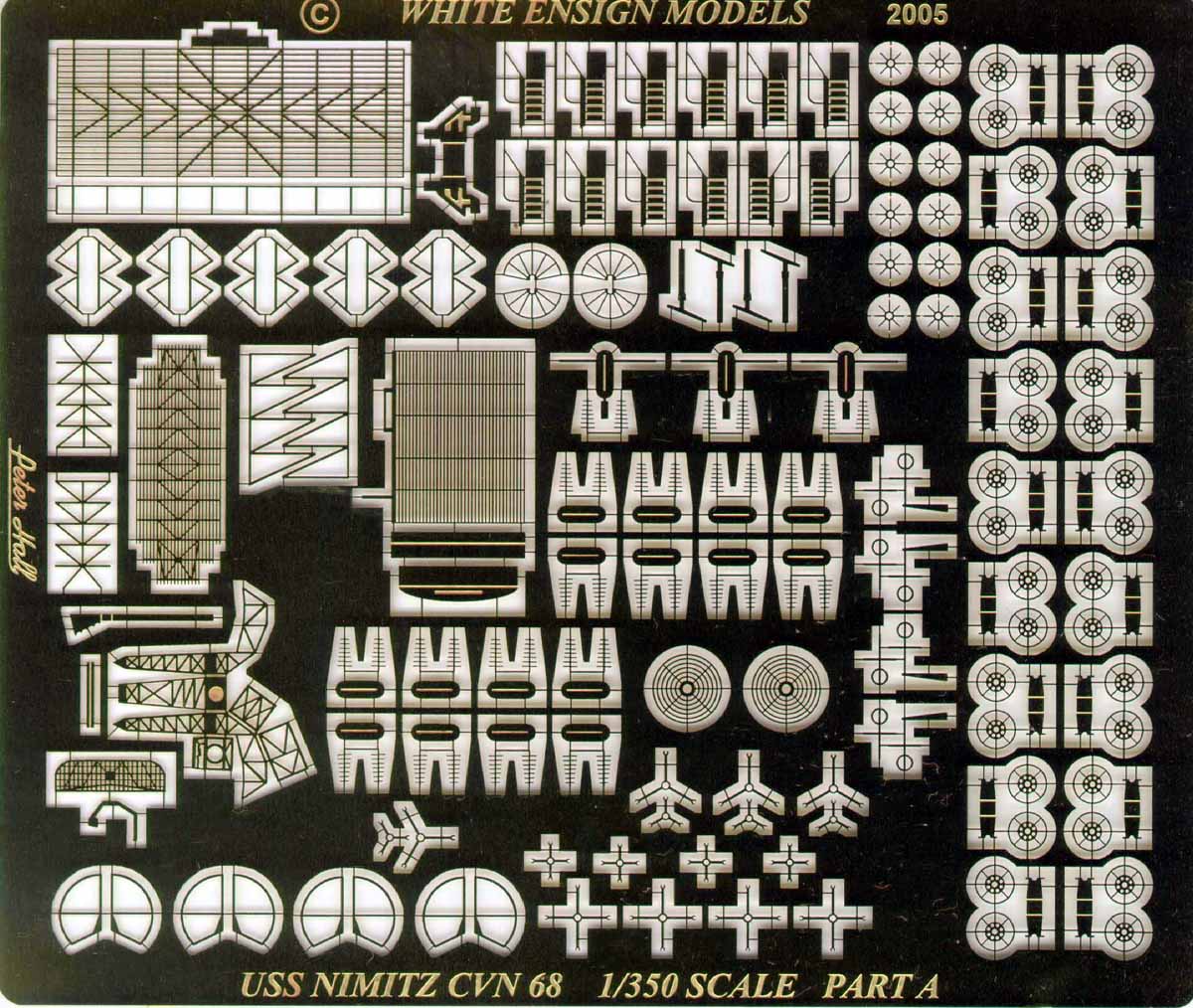 Click to enlarge images
The SPS 48 Radar assembly is well engineered and will look realistic planted on top of your Nimitz. The Folding Side Antenna details even have fine half loops for adding rigging if desired.

The full list of parts on the fret is included below:
SPS 43 Radar Antenna Assembly
SPS 49 Radar Antenna Assembly
SPS 10 Radar Antenna Assembly
SPS 48 Radar Antenna Assembly
Folding Antenna Handles
Catwalk/Flightdeck Ladders
ECM Antenna (Sword & Shield Type)
Flight Deck Comms Antenna + Mounting

Flight Deck Comms Antennas
Folding Antenna Dish D3
Folding Antenna Wire Spreaders (3 Point)
Folding Antenna Wire Spreaders (4 Point)
Small DF Loop Antennas
Antenna Ring Dipoles
Large Cable Reels
Close ups of the fret details
FRET 2
The second fret is the main one with the safety nets for installing around the deck. The relief etching really makes these parts with very realistic net texture. The net braces are etched separately from the netting. I would prefer these to be attached and then folded for less gluing, but this probably gives a more realistic finish. Three different masts are included to depict the Nimitz in as built or a later fit, as well as the Eisenhower early fit. Different radar platforms options are included along with ventilator ducts. Please note the instructions for correct placement of the mast. The kit mounting base is too far inward. Another omission on the kit is an LSO platform. The replacement includes a windshield that can be shown up or folded down. Another plus in this set are the elevator cables with pulley details.
Fret 2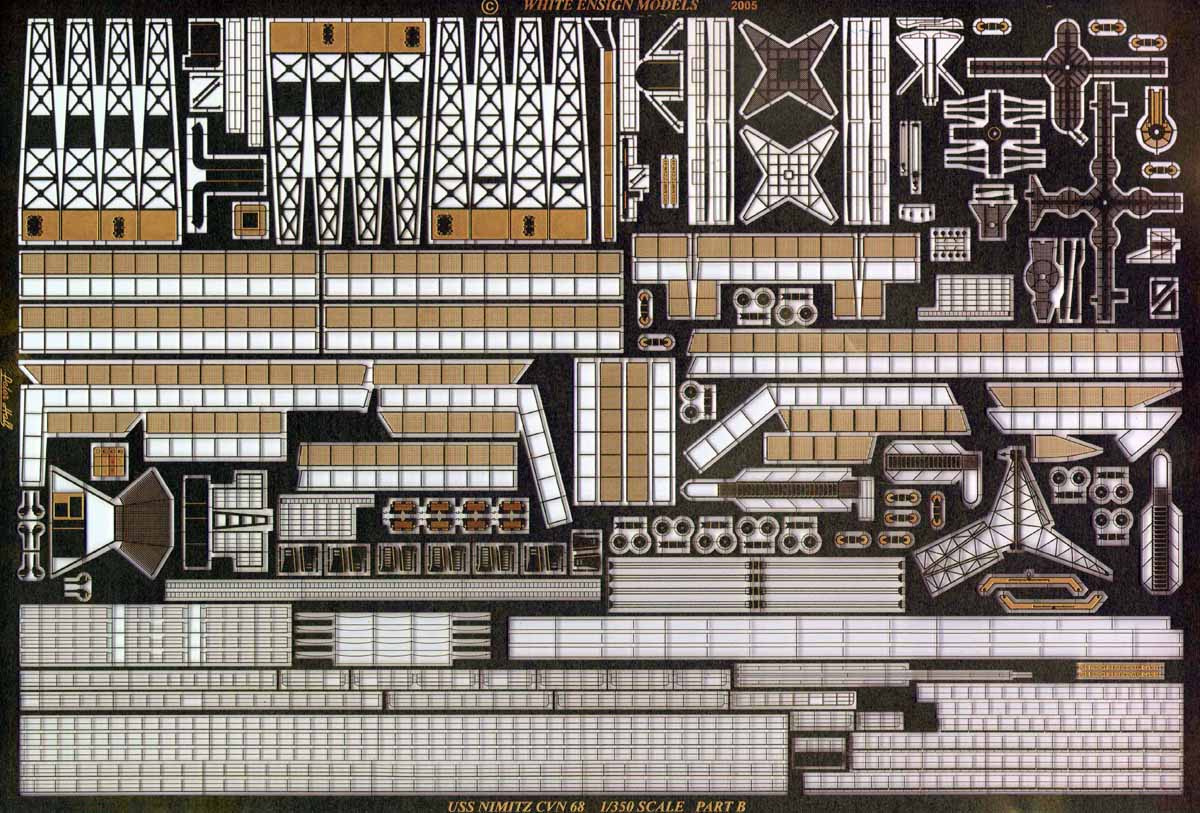 Close ups of the fret details

There are a whole bunch of Island detail parts including railings and platforms that will really bring your model to life. Crane details and accommodation ladders are some of the other items included.

The full list of parts on this fret is included below:
Nimitz Radar Mast (First Fit)
Nimitz Radar Mast (Second Fit)
Approach Radar Platform Assembly
Large Ventilator Trunking
Early Mast Top Platform
Mast Top Platform Raiiling
Eisenhower Radar Mast (Early Fit)
Waveguide Conduit
Sea Sparrow Director Platform
ECM Antenna Platform
USS Nimitz Nameplates
Radar Mast Top Platform Rails
Radar Mast Top Platform (Late Fit)
Platform Doubler Beams
Mast Top Pole Antennas
Small Hose Reels
Foremast Top Yardarm (Early) F51
Foremast Cross Platform F34, Main Crane Hooks
UNREP Bay Pulleys
Foremast Siren Platform F31
Foremast Lower Yardarm F48
Foremast Height FinderRadar Platform (Early)
Island Aft Antenna Platform
Island Starboard Director Supports
Foremast SPS 10 Radar Platform (Early)
Island Port Spotlight Brackets
Caged Vertical Ladder
Large Hose Reels
Port Bow Safety Net
Centre Bow Safety Net
Starboard Bow Safety Net
Elevator Safety Nets
Starboard Aft Safety Net
Stern Starboard Safety Net

Stern Port Safety Net
Port Aft Fwd Safety Net
Port Aft Aft safety Net
Port Angle Aft Safety Net
Forward Quarter Safety Net
Port Angle Side Safety Net
Port Angle Forward Outer Safety Nets
Port Angle Bridle Catcher Outer Safety Net
Port Angle Forward Inner Safety Net
Port Angle Bridle Catcher Inner Safety Net
LSO Windshield, Lso Platform Assembly
Arrester Wire Guides
PortSLQ 17 Mounting
Caged Vertical Ladder
Tow Tractor Fronts
Overboard Disposal Ramp (Type 1)
Overboard Disposal Ramp (Type 2)
Vertical Ladder Stock
Lowered Elevator Cables
Accommodation Ladder 1 (Port)
Accommodation Ladder 2 (Port)
Salvage Crane Replacement Jib
Aircraft Lifting Beam
Accommodation Ladder 3 (Starboard)
Hangar Door External Catwalk Railings
Hangar Door Aperture Safety Rails
Elevator Deck Boundary Rails
Tailored Fit Safety Rails for Lower Bays,
Main Crane Rigging and Jib Handrails
USS Dwight D. Eisenhower Nameplates
2 Bar Railings for Platforms
3 Bar Railings for Open Decks
Railings for Top of Island
Tailored Fit Railings for Bridge Platforms
The instructions are very extensive 8 pages of well detailed drawings and assembly guides. They are very well written and illustrated and leave little doubt about how the brass is folded up and where it goes.
One feature that I especially appreciate is how the radar assemblies includes a view of the fret with the parts you use clearly labeled. It may seem like a small thing but it really saves you time finding the parts you need to complete an assembly.
Conclusions: This is an excellent photo etch set, the etching is extremely fine and most of the parts that the typical modeler would want are included. If you desire to go even further then check out the White Ensign Models #PE 3568 Nimitz Refit set. This is set #PE 3538 is priced at £33.62 a great price for all the details that are included. or just get the Ultimate Set #PE 3539 which contains this set #PE 3538 and #PE 3568 for £55.32 a savings of £5.96 on the combined prices. In addition don't forget to check out the Airwing detail set.