The Airwing
Detail Set for 1/350 USN Aircraft Carriers

Photo etch set by White Ensign Models
reviewed by Timothy Dike
The new Trumpeter 1/350 Nimitz Class Carrier has some really detailed aircraft included with it. They build up much like larger scale models and include clear canopies. But some of you will not be satisfied to just add a few details. Those of you that are infected with the superdetail bug will take comfort in this new set from White Ensign Models. This one includes parts to SUPERdetail the aircraft. Not just new landing gear and hardpoints for the weapons, but interiors details! Yes we have 1/350 ejection seats and etched instrument panels. Peter Hall has really done it this time. This set ought to drive even the most hard core superdetailers over the edge. If you liked the WEM USS Hornet "Ultimate Set" #3527 with it's aircraft interiors, you will love this set even more.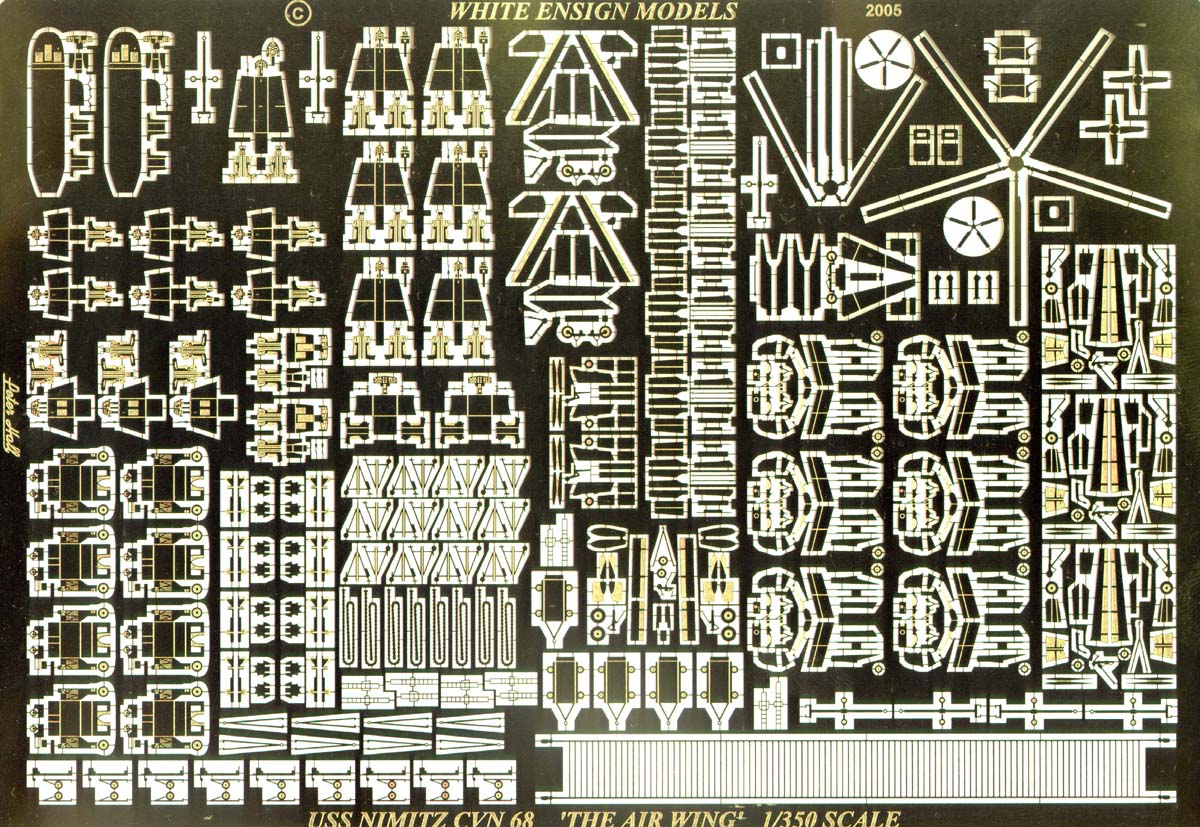 The set is relief etched and it really shows up on items like the aircraft instrument displays. Did I mention that joysticks and flight yokes are provided?!!!! I really like the ejection seats with their included canopy breaker bars and can't wait to see one built up.

A full floor for the interior is included for the SH-3 that should allow you to open the side door on this bird. Both the sliding right side rear door and the split fold up/down left side door are included, a further incentive to open up the interior. The exterior rotors and gear are well done and even include the intake shroud not found on the plastic kit.

The supplied exterior details include the typical weapons hardpoints where appropriate and on some aircraft slats and flaps as well as tailhooks..

The Airwing Fittings set contains:
Aircraft Cockpit Interiors for:

SH3 Sea King
RA5C Vigilante
F4J Phantom II
A7 Corsair II
A6 Intruder
S3A Viking
A3 Skywarrior

Aircraft Exterior Details for:

A3 Skywarrior
S3A Viking
E2 Hawkeye with propellers
A7 Corsair II
RA5C Vigilante
SH3 Sea King
F4J Phantom II with Entry Ladders
A6 Intruder

Misc. aircraft handling accessories such as

Aircraft Hangar Handler
Missile Trolley Rack
Aircraft Jacks
Start Cart Hoses
Aircraft Tow Bars
Liquid Replenishment Trolley
Flat Bed Trolley
Universal Towing Arms.
Flight Deck Crash Barrier,
The aircraft handling equipment is a real plus. Besides the aircraft trolleys, you get such goodies as the Missile Trolley Racks and hanger deck aircraft movers. If you need to work on the landing gear, then use the tripod aircraft jacks to support the aircraft.
Additional detail shots of the photo etch fret.

click images to enlarge
The instructions are well written and well illustrated. They show the various parts and how they assemble and work with the kit parts.

You can also get these details in individual sets for each aircraft type as sets #'s:
PE 3569 1/350 FA-18E SUPERHORNET DETAILS (x6)
PE 3570 1/350 NA RA5C VIGILANTE DETAILS (x6)
PE 3571 1/350 MD F4 PHANTOM (x6)
PE 3572 1/350 GRUMMAN A6 INTRUDER (x6)
PE 3573 1/350 GRUMMAN F14 TOMCAT (x6)
PE 3574 1/350 LTV A7 CORSAIR (x6)
PE 3575 1/350 GRUMMAN E2C HAWKEYE (x6)
PE 3576 1/350 SIKORSKY SEA KING (x6)
PE 3577 1/350 LOCKHEED S3 VIKING
PE 3578 1/350 DOUGLAS A3 SKYWARRIOR (x6)
Conclusions: This is an excellent photo etch set for the die hard 1/350 aircraft modeler. If you are a detail nut, you will go stark raving mad over this set. Set #PE 3563 with a list price of £16.13 a great price for hours of blissful insanity.