1/350 Bismarck Class Upper Superstructure Deck Plates
by White Ensign models
One of the most popular ships on the market for modelers is the Tamiya Bismarck and Tirpitz. These kits have introduced many modelers to the ship modeling world. These kits were pretty good when first released, but simply is not up to the state of the art. One thing that will help is a good photo etch set like the White Ensign Models Bismarck/Tirpitz Ultimate Photo Etch Set, but there is still something missing. How about realistic deck planking and tread plate for the superstructure decks.
Fret 1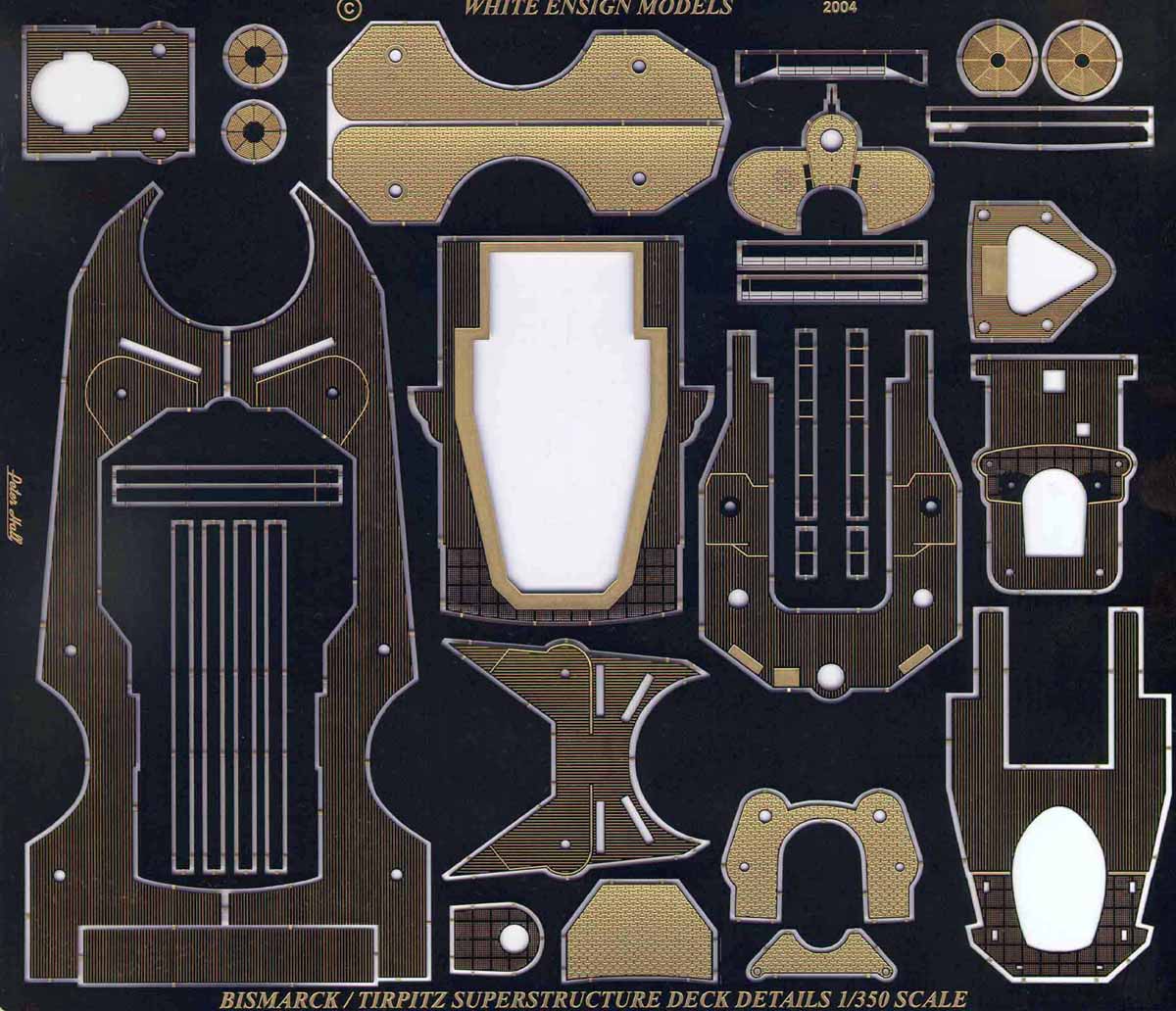 Click to enlarge images
The set includes nicely relief etched decks with the appropriate planking details. One decks and platforms with tread plate, there is a beautiful diamond plate pattern etched onto the surface. Some surfaces have an open wire mesh that will really enhance your Battleship.
Close ups of the fret details

Take a good look at the close up pictures and notice the amazing detail.
The instructions are pretty good but don't have a lot of pictures showing where the parts go. Instead there is a list of locations on the last page. You should not have a problem with figuring out where everything goes as the deck levels are matched to the kit parts.
Conclusions: I'm surprised no one has come out with a set like this before, it is a great enhancement to the Tamiya kit. It will transform those plain flat surfaces into 3D decks that will jump out at you. This set is available for GBP 27.66, a great price for the amount of detail it offers.

There are two other sets that compliment this one if you chose to use them. One is the WEM Bismarck Class Ultimate PE set #3529, and the other is the WEM 1/350 Kriegsmarine Light AA Weapons #PE 3566. The combination of all three will transform your ordinary Bismarck kit into hours of modeling enjoyment and will produce a stunning kit when completed.