Master Model 1/350 Scharnhorst Armament Set with blastbags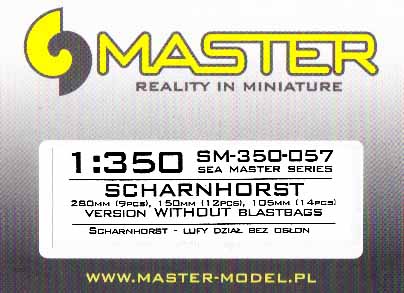 by Sean Hert
Master Models' 1/350 Scharnhorst Armament Set for the Dragon Models 1/350 German Battleship Scharnhort 1943, consists of 3 different sizes of brass barrel, one for each of the different primary gun calibers. There are nine of the 28cm main guns, three for each of the three triple turrets. Next, there 12 of the 15cm barrels; eight for the four twin turrets, and four more for the single mounts. The single 15cm's are open mounts, so the barrels for are cut to a different length, reflecting the differences in appearance between the two 15cm mount types. Finally, there are 14 of the 105mm barrels for the twin AA mounts. This set does not include any small caliber AA guns.

The barrels for the 25cm and 15cm guns in this are intended for modellers who wish to model their Scharnhorst with the blastbags on; that is, with these "bloomers" to protect against spray and foul weather. These barrels will replace the kit's plastic barrel at the end of the vinyl blast bag piece, and will not require any drilling or alignment. (The 105mm will still require the conventional mounting via drilled holes)

INSTRUCTIONS
---
Master Model barrels continue to set the standard others compare themselves to. The decision to only include the barrels for the larger calibers is a good one; handling and installing the smaller 37mm and 20mm AA guns are not for every modeller.
This pack of barrels from Master Model #SM-350-058, is priced at $19.95 and is available now.
Master Model products are available from the following sponsors.
---

© ModelWarships.com