Master Model 1/350 German 37mm/83 SKC/30 barrels (20 pcs)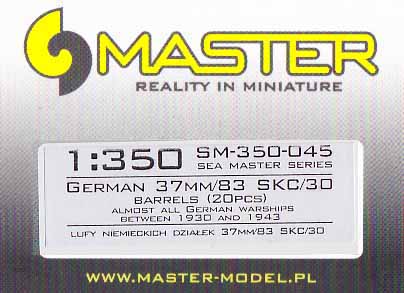 by Sean Hert
This AA gun was seen on most German warships early in World War Two, often in a twin mount. The mount had some advanced functions for it's time to track aircraft, but the weapon's lack of an automatic loader made it unsuitable as a true anti-aircraft weapon. Most were replaced by other AA weapons later in the war.

INSTRUCTIONS
---
The are many current and future German WW2 naval kits that could benefit from this barrel set. Get yours today!
This pack of barrels from Master Model #SM-350-045, are priced at $10.95 and are available now.
Modelwarships thanks Master Models for this review sample. Master Models Products are distributed in the US by Georgetown Hobbies and are also available at the following sponsors.
---

© ModelWarships.com