1/200 Admiral Levchenko (Scratchbuilt)
Udaloy DDG Pre-1999 Fit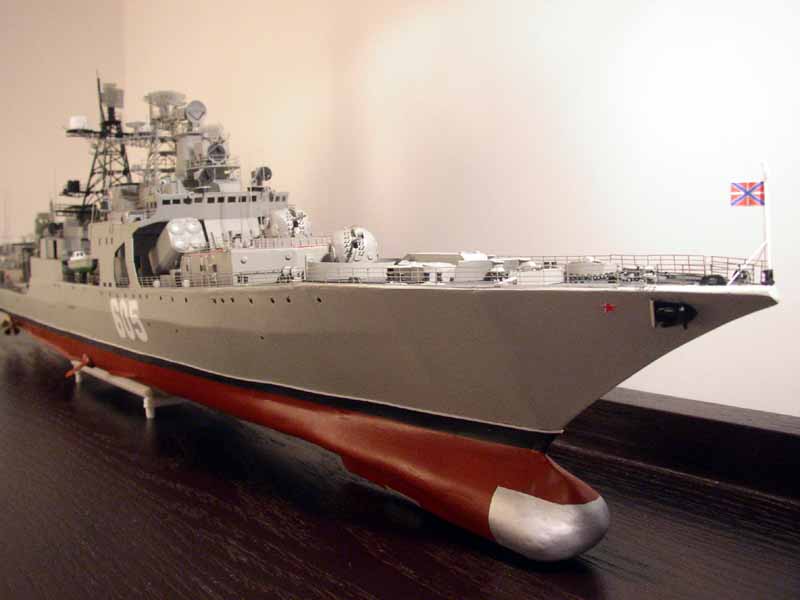 by Joe Chan
This is the first time I have scratchbuilt a model ship. The idea of building an Udaloy class destroyer has inspired after I have completed the Trumpeter Sovremenny Type 956E 1/200 plastic kit – as I want to have a sister ship for my Sovremenny. I desired to have an Udaloy class DDG because of its unique design and configuration. However there is no plastic kit of this massive size available in the market and hence I finally decided to scratchbuild one.

I did not find many structural changes in the Admiral Levchenko after the 1999 refit. Yet I think the painting scheme may have changed and I decided to adopt the old one – one I think is simpler for a beginner.


HULL
The project took about 5.5 months. I started with building the hull by adopting the outline of the Halinski paper model. I used styrene sheets instead of paper and putty as building materials. After repeated sanding and putty applications, I used Mr. Surfacer as the final coat of the hull.
SUPERSTRUCTURE AND DETAILS
Then I built the deckhouses, starting from forward side to aft. After that, I made the weapons and radars.
FINISHED MODEL
Finally, my Sovremenny gets a sister! As a beginner in scratch-building I am satisfied with my work. Anyway I desire to have further improvements and hence I welcome any comments and suggestions!
MATERIALS USED
Evergreen Styrene Sheet 0.5mm
Tamiya Pla-plate 0.5, 0.3, 0.2 mm (white and clear)
Various kinds of Evergreen Styrene rods and tubes
Tamiya putty and Gunze Mr. Surfacer
Several small parts (helicopter, boats, AK-630, etc) from Trumpeter Sovremenny Type 956E 1/200 plastic kit and the PE
Various Gunze Mr. Color and Tamiya sprays and paints
REFERENCES
Zaloga, S. J. (1992). Slava, Udaloy, and Sovremenny. Concord Publications
Admiral Lewczenko, Paper Model Scale: 1:200, Halinski
Various photos downloaded from the Internet
---

© ModelWarships.com