1/200 SOVREMENNY
Photo etch set by White Ensign models
The new 1/200 Sovermenny kit from Trumpeter has been a big hit with the ship modeling crowd. It is a pretty nice kit right out of the box, and even has some photo etch in it. But a kit of this size just cries out for superdetailing. Along comes White Ensign Models to the rescue with one of the most extensive photo etch sets I've seen. This one is jam packed with everything from railings, and radar's, to mast parts and hatches.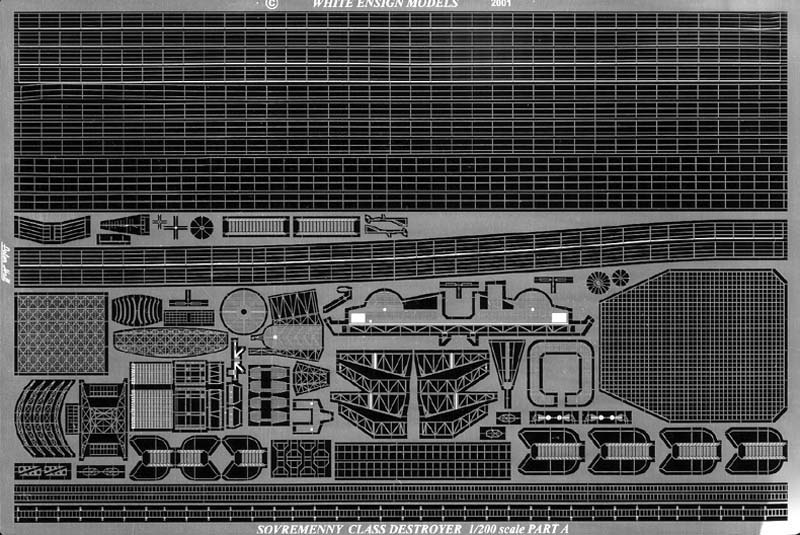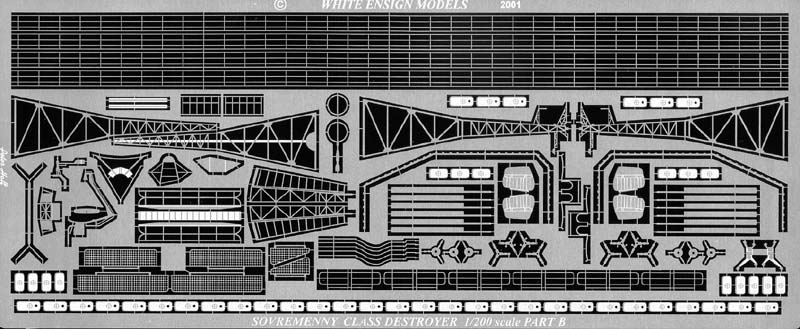 Note: image scanned in B&W to allow for higher resolution on smaller file size.
White Ensign Color scans of Fret 1 (180k) and Fret 2 (112k)
Included in the set:
Fret 1 parts
Fret 2 parts

4 bar main deck railings
3 bar generic railings
2 bar mast platform railings
bow railings that match the deck upsweep
UHF Antenna Assembly
"Prim Wheel" Antenna
Folded Accommodations Ladders
Mast Platform Weather Vanes
"Top Steer" Radar Vanes
"Top Steer" Rear Screen Backs
"Top Steer" Front Screen Backs
"Top Steer" Front Mountings
IFF Antenna
Fregat Radar Half Plate
Fregat Radar Hull Plate
Half Plate Back Frame
Full Plate Back Frame
Hull Plate End Frame
Full Plate Back Frame
Half Plate End Frame
Full Plate End Frame
Fregat Radar IFF Mountings
"Top Steer" Radar Rear Screens
"Top Steer" Radar Separator Frames
"Cage Bare" Antenna
Fregat Radar Mounting Foot plate
Foremast Front Platform Assembly
Shtil Missile Launcher Foot Plates
Mainmast mid Platform
Funnel Front Platform Support
Mainmast Top Aft Antenna
Foremast Side Platforms Assembly
Mainmast Yardarm Assembly
Foremast Platform Aft Antenna Assembly
Foremast Lower Walkway
Flight Deck Helo Restraint Net
Mainmast Top Side Antennas
Replacement Inclined Ladders
"Pop Art" Antenna
Foot plate Handrails
AK 130 Turret Footsteps
Radome Platform Supports
Narrow Vertical Ladder
Vertical Ladder with Supports
Cage Antenna Assembly

3 bar Solid Railing
Mainmast Front Panel
Telescopic Hanger Tracks
Foremast Platform Aerial Spreader
DF Loop Antenna
Mainmast Rear Panel
Mainmast Starboard Side Panel
Mainmast Port Side Panel
Fregat Radar Mounting Bracket
Helicopter Rotor Hub Parts
Helicopter Control Star Parts
AK 130 Turret Front Railings
3 Bar Solid Rail Ends
AK 130 Gun Barrel Coolant Pipes
Flight Deck Net Frame
Foremast Side Platform Supports
Flight Deck Safety Nets
Shore Side Gangway Assembly
Siren Mounting Bracket
Foremast Starboard Side Platform Bracket
"Top Steer" Radar Rear a Frame
"Top Steer" Radar Rear Screen Mounting
"Top Steer" Radar Rear Transducer Probe
Transducer Probe Rear Plate
"Top Steer" Radar IFF Antenna Mounting
"Top Steer" Radar Center Bracket
"Top Steer" Radar Front Screen Transducer
Access Doors
Main Watertight Doors
The instructions are very extensive as well, with two pages (not shown) to identify the parts on the frets and give general photo etch tips. There are three more pages that show how the parts fit and the kit parts they replace or integrate with the kit supplied parts. The illustrations are clear and informative and these are among the best instructions I've seen on the market today.
Conclusions: This is an excellent photo etch set, the etching is extremely fine and the virtually every possible part you would need is included. Where appropriate parts such as the watertight doors are relief etched for a 3D appearance.

If you want to take your kit to the next level this set is the way to do it.