Building the Blue Water Navy
U.S.S. Farenholt
in 1/350 Scale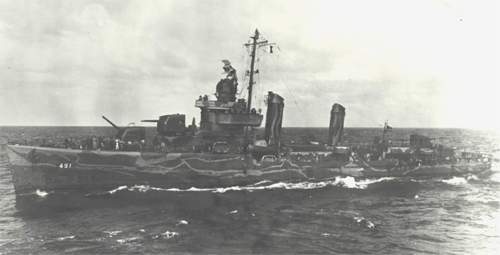 By Devin Poore

Back to the U.S.S. Farenholt Menu
Click to enlarge

Since the major painting is done, it's now onto the major construction. on the right I showed the top deckhouse level with the brass railing installed.
This picture shows that level attached to the rest of the deckhouse below it. A tarp for the top railing has been attached, made from the cloth of a teabag.
I glued on the railing first, and then attached the fabric, which was a little tricky. In the future I'm going to see about doing the fabric covering before the railing is attached. All of the railing, directors and searchlights are set as well.

Railings Attached and Lighting Almost Resolved!

In the below photos, I've finished attaching all of the brass railing. I don't have anything new to add concerning this process, I basically did point attachments with spots of super glue, and then used the thinned white glue to flow along the seams and fill gaps. You will notice that some of the rails are chipped, paint is scuffed, etc. This is a result of the PE process, and I wish I could figure out a way to paint AFTER the brass was on. Next is touching up where paint was flaked off during handling- I'm doing a lot of this by hand but am going to have to do the main deck rails with the webbing by airbrush, the detail is clogged with brush painting (found that out the hard way).

With the railings done, it's onto the paint touchup and attachment of final parts. I have to scratch build a torpedo crane, as I either lost the one that came with the kit or it wasn't there in the first place. I have to come up with depth charge handling cranes; the ones that are supplied with the kit are not correct for Farenholt at this time, according to a detail photo I have of them. After that it's attaching the already finished AA guns, adding the figures (I have a set of Preiser 1/350th scale plastic figures I'm going to use), and then the rigging and water for the base.

---