Building the Blue Water Navy
U.S.S. Farenholt
in 1/350 Scale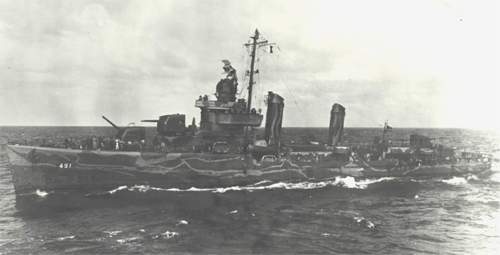 By Devin Poore
Back to the U.S.S. Farenholt Menu

Part 4 Finishing Up
Here she is, finally finished. For the water I used the procedure outlined by Rusty White on the Steelnavy web site, with a few minor modifications. Rigging is done with clear nylon thread, stained black, and then heated to stretch taught. If you look closely at the shots of the bridge and fantail, you can make out figures. I used the Preiser Merchant Marine 1/350th scale set and painted appropriately.

Click images
to enlarge

Unfortunately, Preiser only offers the one set of 6 figures in this scale, and at $13 for the set they're too pricey to do a large ship; too bad, I like them a lot better than bent and painted PE figures.
Weathering was accomplished by first adding an overall gloss coat of Future, then applying washes of oil, and then dry brushing with oil based paints. I'm really impressed with the subtle highlights you can get with oil based paints over acrylic or enamel (of course this doesn't show well in the photos. Figures). The rust streaks and various salt bleaching on the deck and hull are from ground pastel gray and rust pencils. Decals were then applied (ship numbers from the kit, the flag is one of Duane Fowlers commercially available sets), and then an overall coat consisting of Future, mixed with 25% Tamiya flat base, and then 10% Isopropyl, plus a few drops of light gray paint to give the entire model an overall muted and faded look.

And that, as they say, is that! Of course I have picked up a few other kits while building this one. Now to pick a follow-up...
Links:

Back to the U.S.S. Farenholt Menu
Any questions or comments? Post here.
---