Building the Blue Water Navy
U.S.S. Farenholt
in 1/350 Scale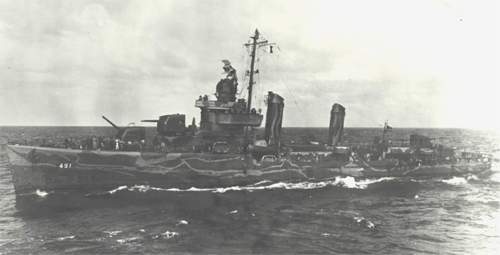 By Devin Poore

Back to the U.S.S. Farenholt Menu
Overall an excellent kit and great introduction to the world of resin ships. Instructions are decent, better than some other resin kits I've seen, but not up to injection molded kit standards, and not as good as BWN's recent kits with the CAD drawings and step by step procedures. I'm finding that I need a lot of photo reference to get the exact placement of the structures and fittings correct. I hear this is a common gripe of the older kits. It has been rectified in their newer kits, though, I have the U.S.S. Yorktown kit and it has VERY extensive instructions with many kit photos and CAD drawings.
The Parts:
The overall shot of all the kits parts. Penny for size comparison. The hull is in two parts, I'm building her as a waterline model so I won't be using the bottom of the hull. All of the resin castings are sharp and well detailed. In all I believe I filled in 5 air bubbles for the entire kit.
Closer shot of the hull as it comes out of the box.
Gun turrets, stacks, etc. All in resin. Again, very sharp castings with fine detail.
All the smallest parts are in white metal. These as well are well cast, and I can find no imperfections in any of them.
Finally the brass photo etched rails, ladders, etc.

---