The much anticipated 1/350 USS Helena is available again. This St. Louis class light cruiser was an improved Brooklyn Class cruiser distinguished by a more compact superstructure and enclosed twin 5" 38 Cal guns instead of single open mounts. After being damaged by a torpedo at Pearl Harbor, the Helena traveled to Mare Island San Francisco for repairs and a refit. She returned to the Pacific with a unique bridge arrangement. The Helena was in the thick of the action from then on to her sinking at Kula Gulf. Her appearance during 1942 and 43 was pretty much unchanged. It is in the fit that Classic Warships has chosen to represent her.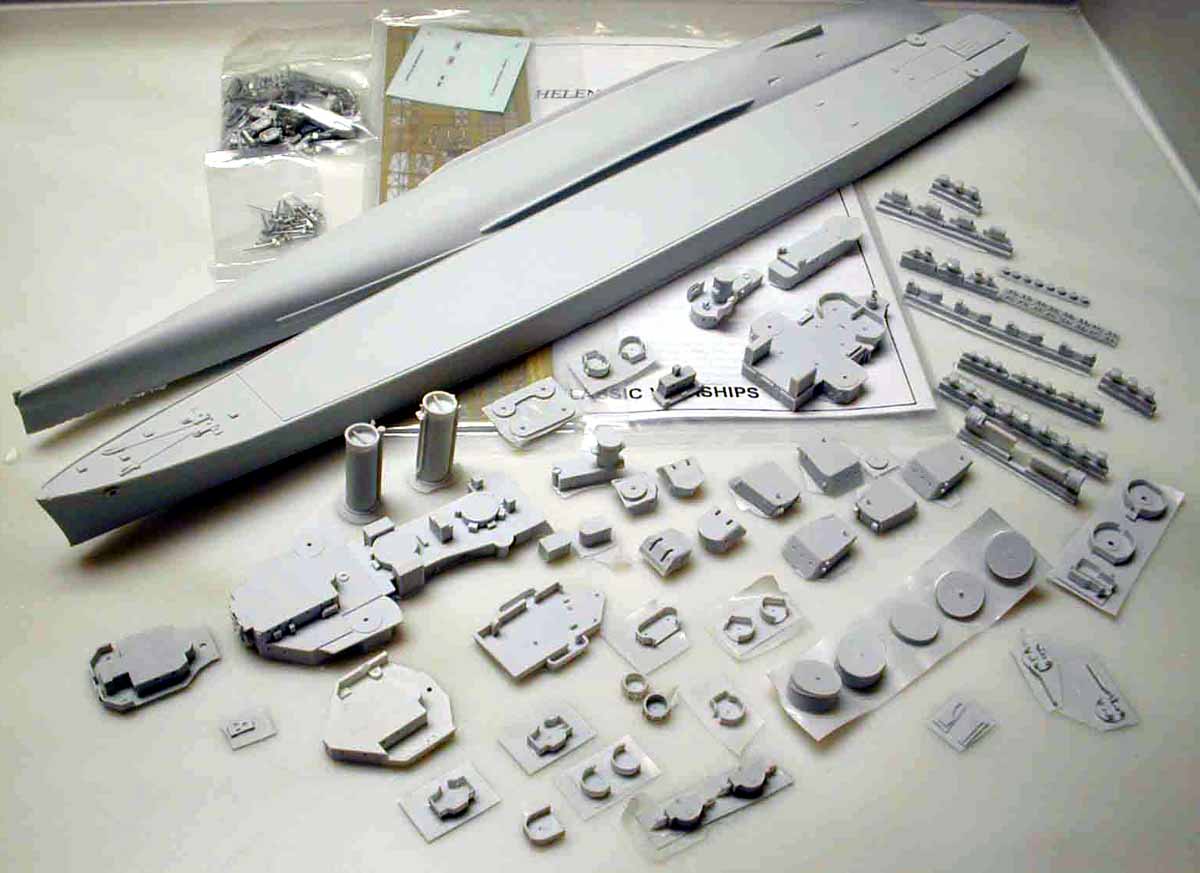 The hull is two piece, not perfectly flat but pretty good for a resin hull of this size. The hull is very plain in the middle with the little details being provided separately. This may be more work for the modeler to attach but you will not have to worry about replacing poorly formed cast on parts. Superstructure parts are very well detailed. My only complaint here is the over pour on the bottom of some parts. But the detail on the parts is nothing short of incredible.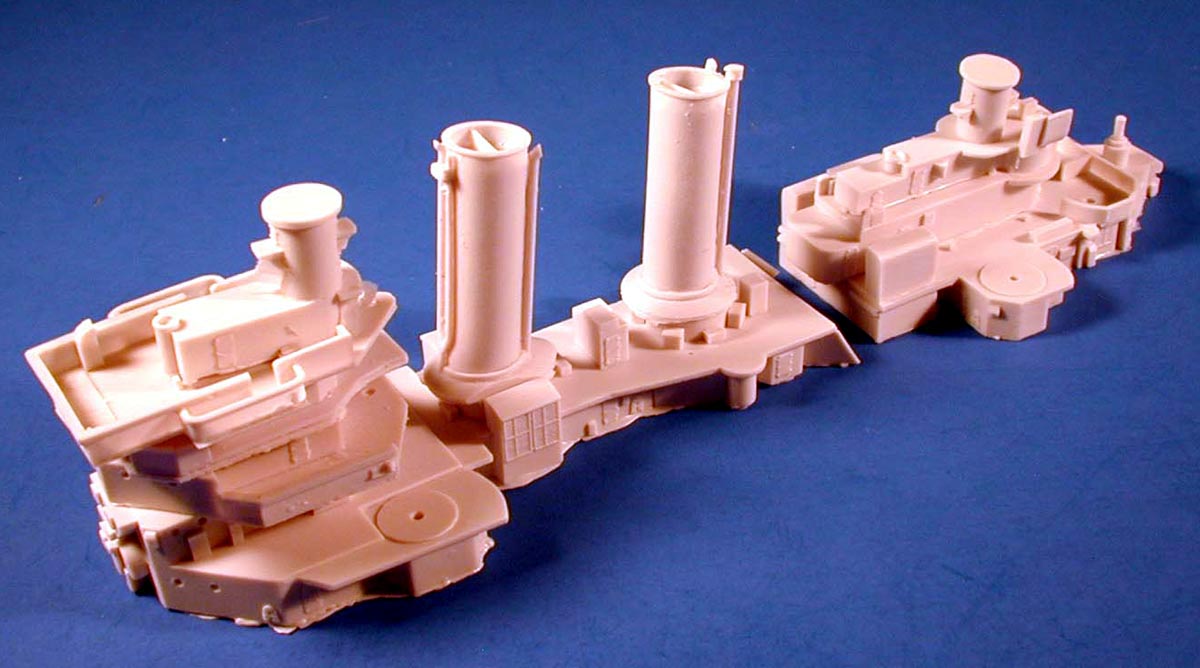 The funnel castings are finely detailed with piping details cast in place and a partially hollowed funnel.

Main guns are nicely cast. Don't let the simplistic appearance of the turret face fool you, those holes are for the cast metal gun barrels with blast bags. This final appearance will be much better. Most of these parts are cast on a thin resin wafer. The 5" gun turrets are well cast with a small casting gate on the rear of the housing where is will be easy to remove. Catapult bases, boat crane king posts, and gun directors are nice. The gun tubs are well done. The kit includes resin searchlight platforms designed to go with the photo etch towers. The mushroom vents, captstans, and cable reels are all cast in resin. Some of these parts had voids in them, but there are extras provided to take care of this.
Cast metal parts are pretty nice looking. Main gun barrels are cast with blast bags in place. I plan to replace these with the 6" 45 cal machined brass replacements available now. But the castings are nice enough that you could use them as is.
| | |
| --- | --- |
| A decal sheet with flags and hull numbers is provided for the markings. | |
Two photo etch frets are included with all the items you will need to finish this ship. The main parts fret is relief etched with some really fine details. The relief etching on the catapults make it stand out. There are even hydraulic cylinders etched to the underside. The boat cranes and aircraft cranes are equally well done. I was most impressed with the front mounted Mk 4 radar. You also get upswept bow railings and a fret of strait railings. Inclined and vertical ladders are also included.

The instructions are several pages with the subassemblies shown separately. The only thing missing is a good elevation detail of the superstructure to help line things up. A set of 1/350 scale plans are also included with plan and elevation views.
I may be a little biased here, as the Helena is the ship that got me hooked on modeling again. It is one of my all time favorite ships. I am thrilled to have it available in this scale. Everything you need to build this ship is included, except paint and rigging. You should get many hours of enjoyment from this kit, and won't have to worry about making a bunch of corrections for accuracy. This kit is available exclusively for $210.00 from Pacific Front Hobbies. A great value for such a complete kit. If you would like to see this kit being cast check out the photo tour of Classic Warships casting facility.