1/700 DKM Bismarck & tirpitz
Photo etch set by Tom's ModelWorks
One of the most popular models built today is the infamous battleship Bismarck. Tom's Modelworks has released a set dedicated to the two German Battleships. This set features relief etched aircraft shed doors and catapult covers to allow you to model the ship with the catapults extended or retracted, a nice touch. The bridge wings are specific to each ship and will give your ship a real scale appearance.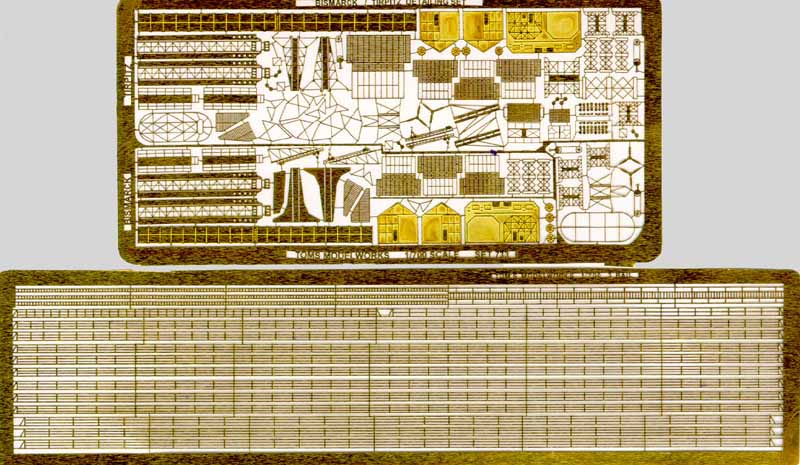 Included in the set are;
Two and three bar hand rails, in various stantion intervals
Vertical ladders and inclined stairs
Stack grill caps for both ships
Handling cranes for both ships
FuMO 23 radar
FuMB7 radar
FuMB4 radar
FuMB6 radar
Catapult deck plating
Aircraft catapults
Catapult cable wheels
Bridge wing extensions (solid and open frame gusset style)
Walkways and rails for bridge wing extensions
Cable wheels and hook
Port and starboard side aircraft shed doors
Rear aircraft shed doors See closeup on right
Stack vents
Ar196 float plane props and float struts
The instructions are more detailed than some of the earlier releases, but could benefit from more auxiliary view in a 3D perspective, especially the Radar assemblies. They show all the individual parts and in most cases list the plastic parts they are designed to replace. The superstructure views showing the various radar mounting is a nice touch.

Instructions (click to enlarge)



I am impressed with this set, the relief etching and custom tailored parts give the modeler the option of creating a super detailed German Battleship. That level of detail is usually reserved for 1/350 ships.
Links:
Back to ModelWarships.com reviews
---

© ModelWarships.com