This set is designed to fit the various Treaty Cruisers of the Northampton and Indianapolis Class. It adds scale appearing cranes and latticework to really dress up those kits.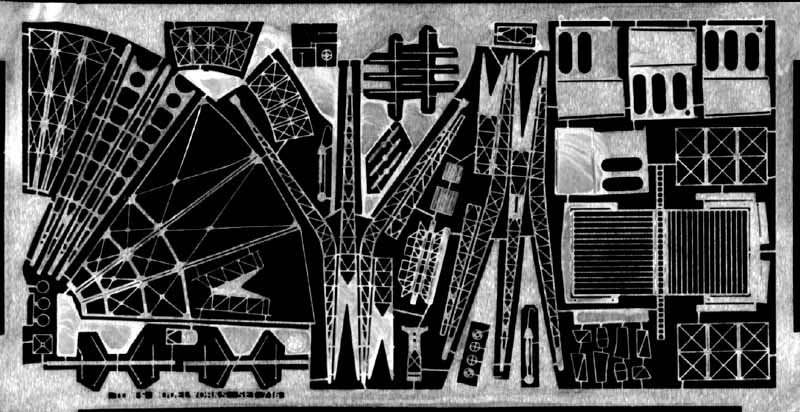 Note: image scanned in B&W to allow higher resolution without increasing file size.
The set includes:
Two types of aircraft cranes.
Boat cranes.
Crane rests.
Later war replacement main mast and platforms.
Searchlight platforms for CA-29.
MK 51 tub supports for CA-27.
Anti aircraft gun tub supports.
TBS antenna.
RDF antenna.
HFDF antenna.
Funnel cap grills.
Propeller guards.
SOC Float plane struts and supports.
CXAM radar and bracket.
The instructions show the parts and how they are assembled. In most cases part location is shown as well. There were a lot of variations in these classes so it is best to consult photo's of the ship you are modeling before proceeding.
This set is a great value to the modeler for any of the Northampton Class Heavy Cruisers such as the Corsair Armada Chicago of the Classic Warships Portland. If you are doing an late war Indianapolis such as the Tamiya kit, I would recommend Tom's Modelworks #730 set specially designed for that kit. For a retail price of $7.00 it is a great value for your treaty cruiser.