1/700 IJN Battleship Set #2
"ISE, Fuso, & Nagato Class"
Photo etch set by Tom's ModelWorks
Anyone who has built 1/700 waterline ships knows that that they are a little lacking in the details. The small parts that are impractical to mold in plastic are perfect for Photo etching. Tom's Modelworks has released Set #730 to remedy that lack of fine details.
Besides the standard ladders, and rails you will find some very nicely done catapults. The catapults are etched in one piece, meaning all you have to do is fold it up and secure with super-glue. You can throw away those unsightly chunks of plastic that are supposed to represent the various platforms. The cranes are very finely etched as well. This set has a variety of platform that are specific to the different class's of Battleships. There are enough parts in this set to do the details on each class of ship and enough railing to do at least two ships.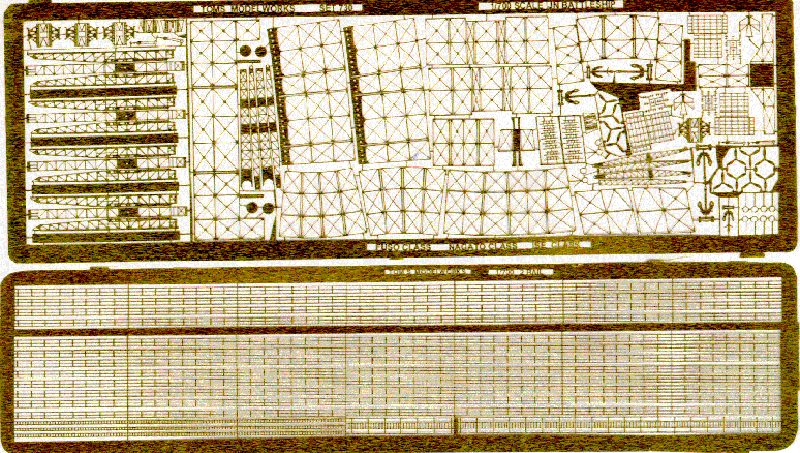 Included in the set are;
Hand rails
Verticle ladders and inclined stairs
4 |Aircraft catapult assemblies
Air Search Radar Type 21
Type 13 Radar
RDF pole and tripods
Ship specific anchors
Aircraft catapult supports
Aircraft trollies
Aircraft propellers
Aft deck support for Ise
Light platfrom for Negato or Mutsu
Aircraft crane boom for Negato or Mutsu
Catapult support for Fuso
Light platform for Fuso
Light platform support side of stack fo Fuso and Yamishiro
Platform support side of stack for Ise and Hyuga
Platfrom support back side of stack for Ise and Hyuga
Platform support front of stack for Ise and Hyuga
Platform support front and back side of stack for the Yamishiro
Light platform support sides of stack for Yamishiro
Crane booms and hook for the Ise.
The instructions are more detailed than some of the earlier releases, but could benefit from more auxiliary view in a 3D perspective. They show all the individual parts and in most cases list the plastic parts they are designed to replace.

With most everything the Imperial Japanese Navy fan will need to detail out that Battleship, this set is definately a must have.





Back to ModelWarships.com reviews
---

© ModelWarships.com