Not much question here as to what this set provides, but more specifically, here is what it contains.  There are twelve rows of reels with each row being a different type.  A few versions are very similar to others and you have to study very carefully to tell the difference.  As indicated by the instructions, rows 1, 2, 4, 8 & 9 are designed for bulkhead mounted reels.  While rows 3, 5, 6, 10-12 are deck mounted reels.  
The photo etch itself is made from very thin brass and is relief etched.  The parts are very delicate so you will want to handle with care.  One thing I do like is the use of a small hole where the center of the hub is. It is nice if you want to put a thin piece of wire through it to support the reels on the frames or to use the hole to help line everything up.
Instructions comprise one page (8.5 by 11) document with description of how the hose reels should be assembled and used.  In one diagram, it shows some options/ideas on how to use the reel frames to best effect based on your building techniques.  A total of three photos show examples of how the reels are used on fitted on the ships.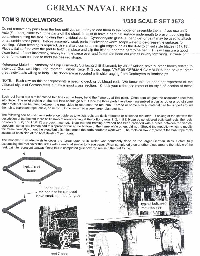 Conclusions:
This generic set will be useful for any 1/350 surface German WWII warship. This will be an important set as some of these details will be missing on some bulkheads or will be of poor detail.  Arrival of this photo etch is in enough time for the release of Trumpeters 1/350 Prinz Eugen. Highly recommend this set to add super detail to your build. Also released with this set is four others in 1/350 that go well with this set #3571 German Naval Doors, #3572 German Deck Details, #3574 German Port Holes and #3575 German Vent Covers.
Be sure to check out all of Tom's Modelworks ship detail sets on their online store with secure shopping.
Thanks to Tom for the review sample.