1/350 Airwing details
by Tom's Modelworks
The new Trumpeter Nimitz is another welcome addition to the 1/350 world of ships. The kit has perhaps the best detailed 1/350 aircraft included. But they are still needed some help. This set from Tom's will allow you to add scale weapons hard points, propellers, and landing craft doors to those aircraft.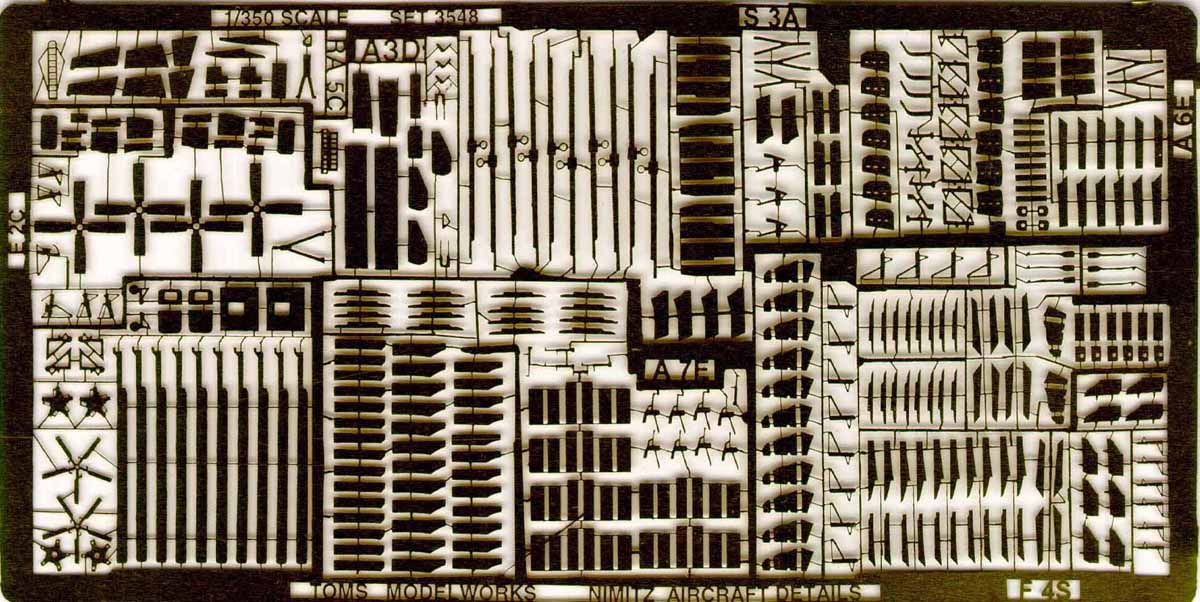 Click to enlarge images
This set covers the E2C Hawkeye, RA5C Vigilante, A-3 Sky Warrior, Sh-3 Sea King, F-4 Phantom, S-3 Viking, A-7 Corsair, and the A-6 Intruder.
Close ups of the fret details

Little details like tail hooks, tow bars, and air brake details for the aircraft really make this set stand out. Some of the aircraft even have entry ladders to get your pilots aboard.
The instructions are three pages, with the parts that go with each aircraft listed. There are plan and elevation views of the aircraft. It would have been nice to have some detail views showing exact placement of the hard points and gear doors.
Conclusions: This set will go a long ways toward detailing your airwing. It can also be used for other 1/350 aircraft carriers. The F-14 aircraft set is available separately.