Master Model 1/350 Russian Cruiser Varyag Masts and Yards Set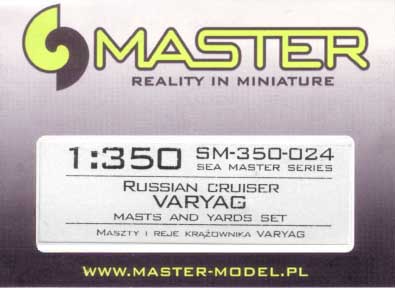 by Sean Hert
This set from Master Model is a departure from their normal fare of machine gun barrels. This set is for replacing the plastic masts and yards of the Zvezda Russian protected cruiser Varyag. The kit is comprised of two upgraded masts, both the fore and main mast, and the 2 yardarms for each. The mainmast has an additional, finely turned gaff to affix.

INSTRUCTIONS

This set has some of the most detailed instructions yet for a Master Model ship set. They recommend you solder the yards to the mast for strength.
CONCLUSIONS
Master Model continues to add to their impressive list of ship accessories, and expands into new frontiers with this set of masts and Yards. When used with the Armaments set for Varyag, you can have a truly outstanding model!
These pack of masts and yards from Master Model #SM-350-024, are available via Georgetown Hobbies for $27.95, part #MAS350024.
Master Products are distributed in the US by Georgetown Hobbies and are available at the following stores.
---

© ModelWarships.com