Classic Warships SMS Königsberg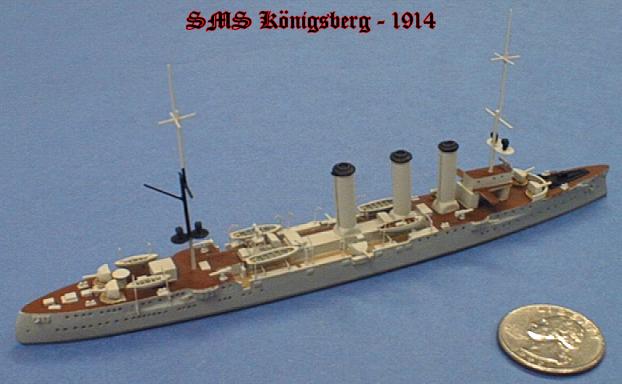 by Norm Koger
This 1/700 scale ClassicWarships model was my first resin ship kit. I hadn't built a model in about 20 years, but when I discovered that some of the really obscure ships I had always wanted to build back in my earlier modeling days are now available in cast resin form I just couldn't resist. So I ordered Königsberg, broke out my dusty 1975 vintage Paasche Model H airbrush and as many of my old tools as I could find, and gave it a try. I was half surprised that my ancient compressor (airbrush air supply) didn't burst into flames when I turned it on.
Working with the photo etched brass parts used to detail this kind of kit was a real challenge. I had never even seen photo etched brass parts before I opened the Königsberg's box. You could go blind working with this stuff. Building the mast assemblies out of brass stock was a hoot. I even got into the spirit of the thing by replacing all of the gun barrels with stainless steel tubing - not that you can tell from this photo. Sure looks cool close up though. I did weenie out on the brass railings for this first venture. Maybe next time...
If you haven't built a model for a while you might want to look around a bit on the web. You might be surprised at what's available now. Your garden variety plastic kits are about the same as they've always been - endless variations on Me-109's, Sherman tanks, and other "popular" topics. But the obscure models today's resin kit manufacturers make will blow you away.
Why Königsberg? The story of this ship is fascinating. I originally read of it in Byron Farwell's The Great War in Africa, which paints a very romantic picture of the Königsberg's history.
Back to Russian battleship Kniaz Suvorov in 1/700
---

© ModelWarships.com