The Foxtrot long-range conventionally powered (diesel) submarines were first laid down by the Soviet Union in the last 1950's. A successor class to the earlier Zulu class long range submarines, these subs demonstrate the post-war Soviet evolution of German inspired submarine design; the Zulu and Foxtrot both show the influences of the Type XXI submarine. Foxtrot was one of the last hull designs fielded with a "conventional" hull shape.
The Foxtrot class was one of the largest classes of post-war submarines constructed. These subs served not only the Soviet navy, but in the navies of many allies and client states. It is rumored that these nations received used ex- fleet hulls, while new construction stayed domestically as replacements.
These subs have distinctive sonar installations in the bow, with additional transducers built into the forward sail area. They were also some of the final Soviet submarine designs to field aft torpedo tubes.
Admiralty has followed up their release of the 1/350 Foxtrot with one now in 1/700 scale. This 1/700 scale kit gives you both full hull and waterline options- and the parts to complete both!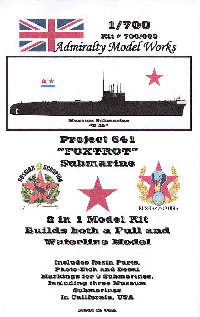 As mentioned, this kit includes both a full and waterline hull, and enough parts to complete both hulls. The full hull is cast onto a typical resin plug running the length of the keel, while the waterline hull appears to be a free pour, with minimal cleanup required. The waterline hull exhibits some minor sagging, which should be easy to fix using any of the standard methods.
Both hulls are well detailed, and appear to be designed from the same CAD as the 1/350 version. The hull has quite a bit of detail cast in place, including a full sail, sonar domes, torpedo tube doors and textured deck. The hull has many vents and gratings; the Foxtrots didn't have open free-flooding holes, and these various gratings are spread all over the hull. The bow anchors are nicely recessed, and must be looked at from underneath to really appreciate
There are three other small sprues of parts; one of dive planes and rudders (parts 2-5); one of various parts for the conning tower (6-9); and the final one has a snorkle for each hull (10). Parts 6-9, the binnacle, radar and snorkle details are al supplied with extra in case of damage or carpet monster attacks.
A neat little pair of subs from Admiralty Model Works, and you can't beat the price or the quality. Recommended!
Foxtrot has a list price of $35.00 USD, and is available direct from Admiralty Model Works. Thanks to Admiralty for this review sample.