The Buyan-M, Project 21631, is a missile version of Project 21630 "Buyan" small-size gunnery ship. The Buyan-M class is intended to defend national exclusive economic zones (EEZ's) by engaging surface warships. These corvettes are armed with 3M14T Kalibr-NK cruise missiles (NATO code name SS-N-27 Sizzler) in 8 VLS cells, as well as a 100mm A190-01 cannon in a stealth cupola forward. For close-in defense, the -M corvettes are armed with the new AK-630-M2, which is two AK-630 guns mounted together in an "over-under" configuration. For air/SAM defense, they carry 2 quad 3M-47 Gibka Igla missile launchers.

The ships' small size and displacement enable them to operate on inland river systems, including traversing the Moscow Canal which allows them to deploy to various seas around western Russia. This is a particular advantage for the Buyan-M series, because while the Intermediate-Range Nuclear Forces Treaty prohibits long-range cruise missiles from operating on land they can operate from ships, so a river-based corvette can deploy missiles without being subject to restrictions. There are currently 5 Buyan-M corvettes in service, with 5 more under construction or on trials.

From Wikipedia and other web sources.
HULL
As is typical for 1/700 ships, this kit is cast with a waterline hull. It is cleanly cast, with little to no overpour and flash; what excess there is will clean up quickly and easily with a few swipes of sandpaper.

Combrig's normal good casting and high standards of detail are evident on the hull detail- the fine breakwaters and bulkhead details are crisp and clean. The pre-placed holes to aid placement of the railings is a great touch.

RESIN DETAILS
Like most modern, low-observable ships, there aren't very many external structures. This is reflected in the relatively low parts count in this kit. The structures included consist of the primary and secondary sensor masts, deck fittings, an RHIB and life raft canisters.

The external weapons on these sprues are comprised of the A190 100mm gunhouse and barrel, 3M-47 Gibka launchers, and the AK-630-M2. The resin 100mm barrel appears robust and accurate, but some modelers may seek a brass upgrade.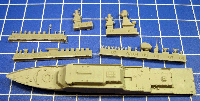 PHOTO ETCH
There is two PE frets; a primary and a small add-on. Both of these frets are mostly various railings for the vessel, with a few extra small details. the railing stantions all terminate in small posts that will fit into pre-made holes in the hull to make alignment and placement much easier. The weather shields for the Gibka's should really give them a nice, accurate feel. It doesn't appear any additional aftermarket PE will necessary for this kit.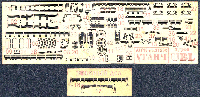 DECALS
The decal sheet is pretty simple, as is normal for non-carrier ship models. This sheet has the pennant number and names for the 5 current vessels in service, along with a decal for the Naval Flag of the Russian Federation (St. Andrew's Cross).

The included pennants and names include the ships which conducted missile strikes during the Syrian Civil war.(Grad Sviyazhsk, Uglich and Velikiy Ustyug)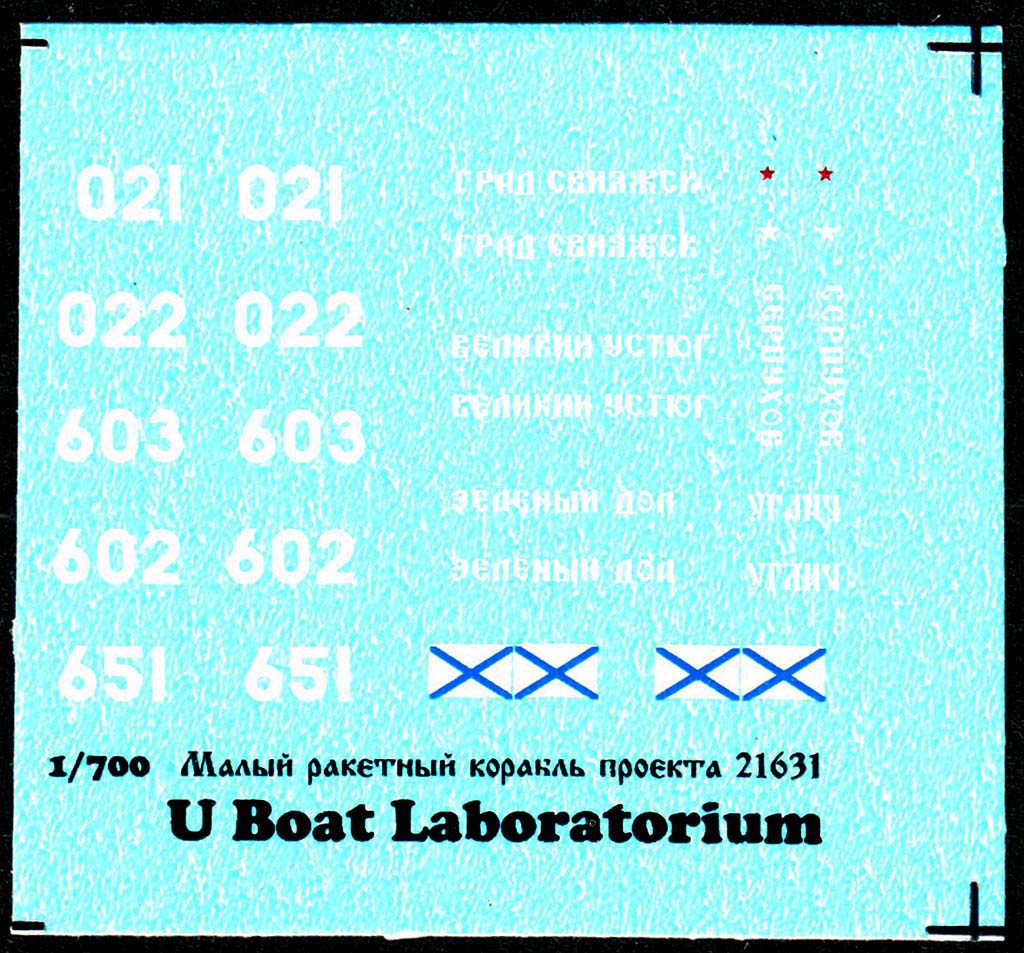 INSTRUCTIONS
The instructions are single dual-sided page; one page split between a specifications sheet and decal placement, and the flip side being the instructions/part placement guideline. Resin and PE parts are differentiated by color; it also appears there are some whip aerials (blue) to be installed- but no wire appears to have been included.
CONCLUSIONS
This Russian corvette has already demonstrated it's usefulness in meeting the national interests of the Russian Federation. Here's a size comparison, 1/700 style:

[L-R] Carlo Bergamini-FREMM, Admiral Gorshkov-class frigate, Independence-class LCS, Freedom-class LCS, Steregushchiy-class corvette, Buyan-M class corvette [in red], Type 22 (Houbei class) missile boat
It's clear we live in an age of modeling where resin manufacturers can leverage 3D printing to provide accurate models of complex shapes easily and relatively inexpensively. This kit from Combrig is an excellent example of this- it's accurate, and relevant to current events- and a neat little model! If you have an interest in modern combatants or small combatants, you should pick one of these up for your collection.
Thanks to Combrig for the review sample.