Ship modelling has always been regarded a minority market by major manufacturers.

Especially above 1/700 we had been left with little to choose from in plastic kits. Trumpeter stirred the bucket quite a bit, when they started "going big" releasing carrier after carrier in 1/350 an finally a BB-55. With all the plastic avalanche coming form the Far East these days, other companies' releases seem to go unnoticed. Russian maker Eastern Express released a 1/350 Borodino, but I didn't see any review about that kit, even though the number of pre-dreadnaught-fans does not seem to be too small. Hasegawa's release of 1/350 Mikasa seems to be drawing some attention. Rumours about the first production run being "sold out" are already circling. Fitting the topic "Russo-Japanese War", Zwezda from Russia just released their

Protected Cruiser 1. Class "Varyag" (Viking) in 1/350.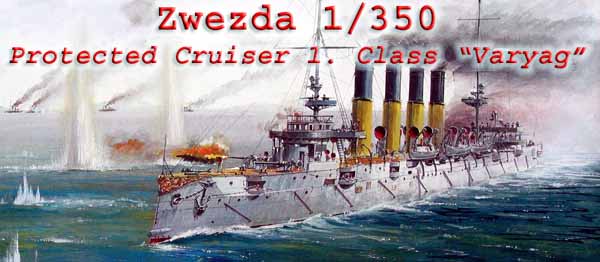 I hope to be able to draw some attention to this kit to encourage these makers to proceed on their off-the-beaten-track policy.

---
| | |
| --- | --- |
| Laid down: | 1898, Philadephia, USA |
| Launched: | 1899 |
| Commissioned: | January 14, 1901 |
| Fate: | - Scuttled February 9, 1904 after the Battle of Chemulpo (Incheon, Korea) - Raised, repaired and used as training ship "Soya" by Japan after the war and sold back to Russia in April 1916 - Seized by British government in 1917 while under repair at Liverpool - used as a hulk until ran aground and sold for scarp to Germany in 1922/1923 (dates vary according to source) |
| | |
| Displacement: | 6500t |
| Length: | 129.6m (419.6ft)(in scale: 37.0cm/14,84'') |
| Beam: | 15.8m (52.2ft)(in scale: 4.5cm/1,77'') |
| Draft: | 6.3m (22,6ft)(in scale: cm) |
| Armament: | 12-6in (152mm), 12-75mm, 6-47mm, 6torpedo launchers |
| Speed: | 23kts |
| Complement: | 550/580 (numbers vary according to source) |
Upon opening the nicely decorated box the modeller finds 5 sprues dangling around in the box along with an instruction sheet and a sheet of flags printed on paper. Certainly a couple of polybags to protect the sprues from scratching each other wouldn't have hurt. Especially as there's a lot of space form them to move around in the box.
Click images
to enlarge
Your first glance will fall onto the 2-piece full hull split along the keel. Two big positioning and stabilizing pins on the insides spring to attention. Unfortunately, they are located below the waterline and will not help you stabilizing your kit, if you want to cut it down to the waterline. The outside of the hull parts show a lot of moulded-on detail. The detail level is very nice enabling a build straight form the box for the less dedicated modeller or beginner, while there's plenty of room for super-detailing. A big "thumbs-up" from my side is coming for not moulding on the torpedo-net booms.
Sprue "B" is supplied twice in the box holding primary and secondary armament and a couple of rapid fire guns, boats and launches, davits, funnels and other deck detail. Again, the level of detail is very nice and flash-free.
More funnels, davits, complete with block and tackle, and other deck details can be found in sprue C along with various upper deck levels. The quarterdeck can be found as the first part of the 3-piece deck.
Sprue "D" supplies the main deck and focsle', upper walkways, bilge keels and masts. If you think the age of Aztec steps is over, you are certainly wrong. Up the test of the casting is nice and fine. I certainly like the fully cast hatchways.
The bottom of the box is lined with a Spartanic Flag sheet and a well designed and illustrated 8-page instruction. On my first look I could not find any major flaws/screw-ups in the instruction until checking the painting instrcution. Some colours just don't seem to be right. Some coats mentioned in the listing (such as red) isn't used at all. (Maybe I am just being blind, as usual! Please check yourself!) The painting instruction calls for Model Master Enamels.

Test fitting the hull parts and decks revealed smaller gaps and seams to be filled. But they are small and should not pose any serious problem. I still wonder why the main and quarterdeck have been moulded separately. The overall measurement is almost correct.

Verdict (Ladies and) Gentlemen! I a having a ball imagining a showroom fleet of 1/350 kits of pre- and WWI kits in my hobby room: There's a Koening, a Kurfuerst, a Markgraf, a Borodino, an Emden, a Dresden, a Mikasa and a Varyag. … and guess what!? There's not one in resin! Only good-ole plastic! What a relief for my wallet. Here's my "two thumbs up" for Zwezda!
Guido Hopp
Hilden, Germany
27.06.2005
---

© ModelWarships.com