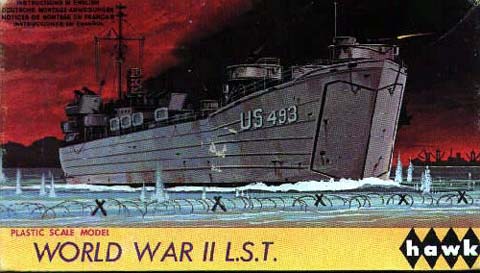 Hawk 1/600 Scale US World War II LST (Landing Ship, Tank)
Review by Frank Tauss
I'd never seen or heard of this kit before. So when I saw it on eBay, I grabbed it. It is an old kit, based on the date of 1967 on the box.
The kit is cast in a translucent white plastic and comprises of 27 parts. The molding, what there is of it, is crisp with almost no flash, though the details are soft to nonexistent. The ribbing down the side of the hull is there, and commendably light. The deck is pretty simple and the armament (6 single barrel, 2 twin barrels), which are supposedly 40mm guns, are barely more than plain shapes (White Ensign Models here I come). The superstructure is also fairly bare. The davits are just shapes, with no relief at all and the LCVPs are missing their rear decks. The mast seems reasonably thin and the decals, for LST US 493, seem to have held up over the years. I haven't measured the kit but the proportions seem about right.
It was probably not worth what I paid (eBay fever you know), but considering how many injection LSTs there are, 1/245 Lindberg, 1/700 Skywave and this one, your choices are somewhat limited. I figure that some photoetch railings, replacement guns, replacement/scratchbuilt/detailed davits and the rear deck area on the LCVPs along with a nice paint job should to make it into a decent representation. I think it will make a neat addition to the other 1/570 and 1/600 ships I have when I get around to building them all.