HISTORY
Shinkai 6500 is a manned submersible that can dive to depths of 6,500 meters – deeper than any other manned submersible for academic research all over the world today. In 1991, Shinkai 6500 began its mission to study seafloor topography and geology and research deep-sea organisms in the Pacific Ocean, Atlantic Ocean, and Indian Ocean as well as the sea around Japan. The total number of dives reached 1300 in 2012. From JAMSTEC website.
This kit of the Shinkai illustrates its appearance prior to the 2012 refit.
SPRUES A / B
Sprues A & B consist of the upper and lower halves of the pressure hull. These parts are molded in white styrene and are well detailed, with panel lines, hatches and other external features. The panel fastener details are particularly consistent. These halves are more reminiscent of airplane fuselage halves than model ship parts. The two halves appear to align well.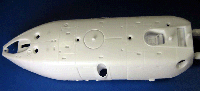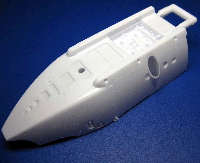 SPRUE C
Sprue C has an interior bulkhead for the forward section of the sub, which also provides attachment points for the forward section of the hull- parts C3 and C4.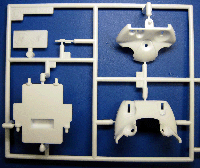 SPRUE D
The bulkhead which comprises the rear of the craft, as well as the dive planes are on this sprue. There is also an internal support piece which also serves as the vertical thruster assembly. Finishing up this sprue are the collection baskets and the ballast weights. The collection baskets are mesh screen on the real submersible, and a photoetch upgrade would really serve these parts well.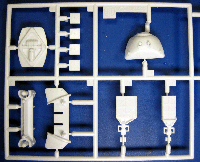 SPRUE E x4
E is primarily concerned with the two manipulator arms. They are well detailed, but are not repositionable. This sprue also has parts to make the external viewing camera.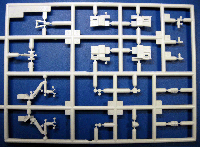 SPRUE F
Sprue F has the props and parts to make the various thrusters, including the large caged main thruster for the rear of the craft. Some caution is warranted while removing the smaller propulsors for the vertical and horizontal thrusters.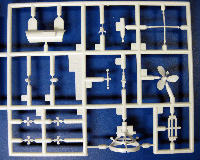 SPRUE G
This sprue of orange plastic has the halves for the stabilizor and a one-piece observation/sonar housing.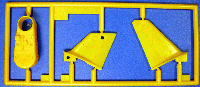 Sprue G

SPRUE J
This clear sprue as the parts to make a display stand, and also has the three viewports for the crew.