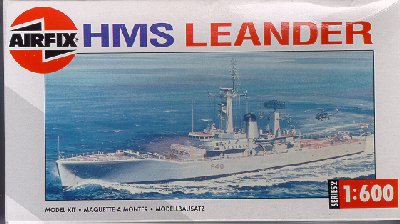 Airfix 1/600 Scale HMS Leander
Review by Ian Wilkins
This kit was first released in 1970 and represents the famous class of frigates built for the Royal Navy in the 60s and the 70s. The release I have is the most recent one which is supposed to include the option of mounting four exocet missle launchers in place of the 4.5 inch twin mount forward. I say supposed to because, though the box art has been modified to show the launchers and they are shown in the instruction sheet, there are no launchers included in the kit! I suppose I must have got a odd mispacked kit.
Note from Webmaster: My version of the kit has these missle launchers
The parts that you do get are quite good. All parts are cleanly moulded, though I suppose some details like propellors and the 40mm guns are a bit crude. The deck moulding is nice and caries a good deal of crisp moulded on detail. The helicopter is tiny but looks quite OK and is an obvious candidate for super (micro!) detailing. There is a nice decal sheet which includes alternative pennant numbers for four vessels, and all the necessary helicopter deck markings. This kit makes a good companion with the other Airfix "modern" ship kits like Devonshire, Tiger and Victorious. White Ensign Models have a good selection of 1/600 scale photo-etch suitable for all these kits.
---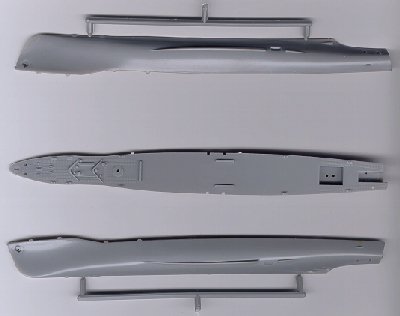 Hull halves & deck sections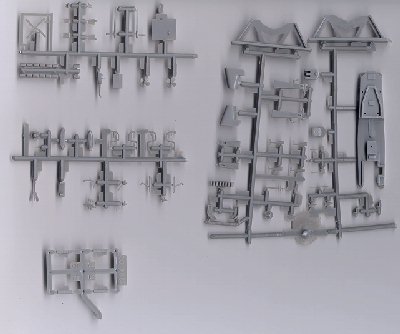 Other part sprues