Frog/Novo 1/500 Scale HMS Exeter
Review by Ian Wilkins
The kit reviewed here is the Novo re-issue of the Frog Exeter kit. The kit depicts Exeter as she was at the time of her loss, and not in the configuration she was at the time of the Battle of the River Plate. There is augmented AA armament and other changes. The box art is very nice and there are painting instructions on the side of the box. Instructions consist of a series of exploded views but are not as simple or clear as builders might be used to.
This is an excellent kit, simply but cleanly moulded and seems to be very accurate (see picture). I have not built it but have assembled it with the aid of rubber bands and tape. This showed that the fit of the major components is good. The hull dimensions are very accurate for a 1:500 scale model and the bow knuckle (something that seems to be problematic for injection kit manufacturers) is very well and sharply represented. The deck planking is represented with very faint raised lines and looks to be well in scale. In general this kit is a superb basis for a model of this interesting ship. There are no glaring deficiencies to be corrected and it would make a lovely model right from the box. There is also conversion potential, either through backdating the vessel to other configurations, or even converting her to her near sister HMS York.
There are only a few criticisms that should be noted. Some modelers will want to replace some of the components such as cruciform supports and masts that can be better done with brass and copper wire, and the pom-pom mounts and torpedo tubes are a bit simplistic and could use replacement and extra detailing. Also the catapult and crane included with this kit, while being admirable attempts in this scale, are a bit simplified and scratch building new ones from wire and other oddments would be a fun challenge. The bow in my opinion is a bit rounded and doesn't really look like the nice sharp like bow this vessel had. I intend to fix mine by adding some layers of plastic card and carving it to shape. I estimate this would increase the overall length of the model by a few millimeters but I think its worth it for improved appearance.
Overall the quality of this kit was a pleasant surprise to me. I had heard that the Frog originals were good and wasn't sure what to expect with this Russian re-issue. Beware however! I recently saw on of these kits for sale with similar box art but Cyrillic text and the contents were appalling. There were just stupid amounts super thick flash over everything including major superstructure components. I thought about buying it (it was cheap) but decided you'd have to have rocks in your head even to attempt it. So check the contents of these kits before you buy, though it would probably be safe to buy Frog or Novo branded kits sight unseen. Gold Medal Models makes a fine 1:500 scale photoetch set that would yield many useful components for this model including the obligatory deck rail and ladders.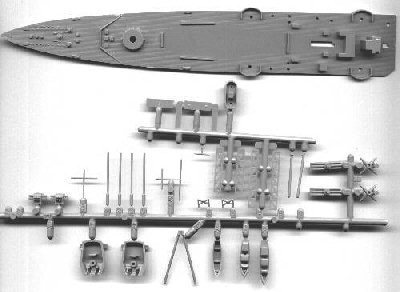 A sampling of the kit's parts.