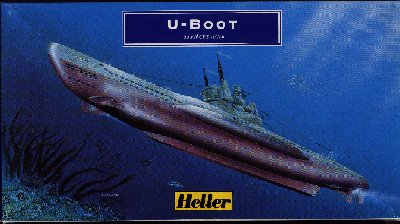 Heller 1/400 Scale U-Boat
Review by Felix Bustelo
The U-boat was the German Kriegsmarine's most lethal weapon in World War II. The Heller kit represents a Type VIIC U-boat, which was the workhorse of the U-boat fleet since 1941. This type of U-boat saw action in all theaters of operation and is also the type that U96 was, which is the subject of the movie "Das Boot". The Heller kit also includes a slightly larger conning tower with a wintergarden to make this kit a Type VIIC/41 variant. The only survivng Type VII boat, U995 on display in Loboe, Germany, is of this late-war variant.
The Heller kit is tiny, measuring about 6.5 inches by 1.6 inches (164 mm by 41 mm). While the model is overall accurate in terms of shape, this scale does not allow for very much molded detail. The model's guns and periscopes are very delicate and will require careful handling. The ballast tank vents are raised moldings on the hull halves, which would make drilling out very difficult. The decal sheet is very simple, with numbers for U576 (a Type VIIC) and U995 (a Type VIIC/41) and a sign for the display stand's name plate. Inexplicably, my kit has only instructions for the Type VIIC/41 variant. I am not sure if the kit is supposed to come with another sheet for the original version, but I do have the parts for one. The instructions are printed in color, which is something that I haven't seen before.
Overall, the Heller U-Boat could make a quick weekend project and with some spare photo-etching from another 1/400 scale kit, could be made into a decent model. The size of this kit makes it suitable for a diorama, which is how I plan to build mine. In fact, I recall that someone told me that they built theirs as a wreck site complete with scuba divers! For the price (under $10 US), it isn't a bad kit.
---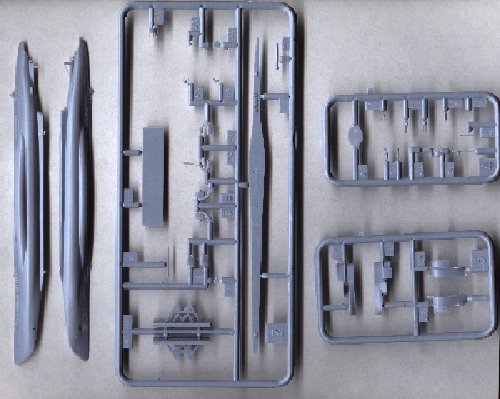 The kit's parts.