FIRST LOOK:
IRON SHIPWRIGHTS 1/350 U.S.S. OKLAHOMA (BB-37)
By Martin J Quinn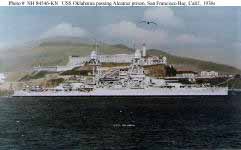 Operational History
The second ship of the Nevada-class, Oklahoma is probably best known for her loss in the Japanese sneak attack on Pearl Harbor on December 7, 1941. The first picture I ever saw of the Oklahoma was of her bottom, as she lay upside down in the Pearl Harbor mud after absorbing multiple torpedo hits and capsizing in the early minutes of the attack.
Expected to be simply an "improved" version of the preceding New York-class battleships, the Nevada's ended up being introducing an entirely new scheme of armor protection to both the US Navy and the world - the 'all or nothing' scheme. By limiting the area to be armored to the ships vitals, heavier armor could theoretically be carried. Only 10 feet longer and 500 tons heavier than the New York-class, the Nevada-class had superior armor protection. Weight was saved by using oil-firing boilers instead of coal (less machinery was needed), and by having the same number of main caliber weapons while carrying one less turret. While Nevada was built with direct-drive turbines, Oklahoma carried the same vertical triple expansion machinery that was found in New York and Texas.
Laid down in October 1912 at New York Shipbuilding in Camden, New Jersey, Oklahoma was launched in March, 1914 and commissioned on May 2, 1916. During the First World War, Oklahoma served as a convoy escort with sister Nevada in 1918, operating out of Bantry Bay, Ireland. She also was an escort for both of President Woodrow Wilson's trips to France in 1918 and 1919. She joined the Pacific Fleet in 1921, where she remained until 1927, when she came back to the East Coast before entering the Philadelphia Naval Shipyard for modernization. She came out of refit in 1929 a completely different looking ship. Instead of cage masts, she now carried tripod masts, hull bulges and almost 2,000 tons of new armor. Because she carried different machinery than her sister, Oklahoma did not get an engineering upgrade, which meant her speed was reduced to less than 20 knots.

Upon completion of her modernization, she served in the Pacific Fleet from 1930 to the spring of 1936. She sailed on a European training cruise that summer, which was interrupted by a visit to Bilbao, Spain, where she picked up American's displaced by the Spanish Civil War. After returning to the United States in September of that year, she headed back to the Pacific, never to return.

On the morning of December 7, 1941, Oklahoma was moored outboard of the Maryland along Battleship Row when the Japanese struck Pearl Harbor. Oklahoma took at least five torpedoes in quick succession and, unable to effect counter-flooding measures like West Virginia did, started to capsize. She many have taken as many as four additional torpedoes as she turned, stopping only when her fighting tops wedged into the bottom of the harbor. Over 400 officers and men perished with the ship.
Originally considered for repair, Oklahoma was eventually deemed not worthy of rebuilding, partially due to her antiquated power plant. Instead, in one of the most monumental feats of salvage ever, Oklahoma was righted, re-floated and finally dry-docked on December 28, 1943. Stripped of most of her top hamper, Oklahoma was decommissioned in September, 1944 and sold for scrap. On May 17, 1947, while en route to the West Coast for disposal, she foundered and sank approximately 540 nautical miles north east of Pearl Harbor.
The Model
Iron Shipwright has listed all of the Pearl Harbor battleships on their website for quite awhile, as either planned or available in 1/350 scale. This past December, they announced that the Nevada and Oklahoma would be available in the first quarter of 2004. My Oklahoma arrived in the typical sturdy resin-ship style box. Upon opening the box, I found the bubble wrapped hull, two small plastic 'boxes' with resin parts and another small cardboard box, upon which was taped some plastic bags containing decals and three sheets of photo-etch. Inside the small cardboard box was more resin pieces - including the gun deck - and the white metal parts.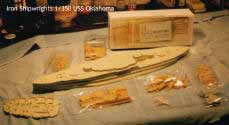 The hull is cast in a light green resin. Since I prefer my ships 'waterline', I asked that my Oklahoma come sans full hull, and ISW was kind enough to comply. Measuring out at just shy of 20 inches at the waterline, the kit scales out perfectly to the real Oklahoma's 575 feet (at the waterline).
The hull - except around the bottom where they cut off the pour - is nicely cast. There are some small air holes and blemishes, but for a ship of this size, the amount of blemishes seems acceptable. The deck is one of the best I've seen on an ISW production, thought the aft part of the deck at the very stern isn't fully cast. Some of the vents and other items aren't fully formed, but there are many finely cast items such as doors and the hatches that allow access to the hull blisters.
The superstructure parts are also well cast, without flash or pitting, though the conning tower vision slits aren't fully formed. The gun deck - as mentioned - is a separate piece. It looks like it will take some minimal sanding to mate it to the hull, but my piece has a seam running down the middle of it.
The turrets are well cast on the top, but the bottoms will need some clean up. One triple and one twin turret have large resin bubbles that will have to be removed. The gun barrels are cast in white metal, and look good. Other white metal parts include the anchors, searchlights and support struts for the propeller shafts. The main portion of the boat cranes - which some manufacturers cast in white metal - are resin in this kit, but well done. An extra one is included. Speaking of extras, the kit comes with three resin fighting tops. There are a few bags of smaller parts, including gun directors, secondary guns and ships boats among other things, all of which are well cast. The kit included resin poles which appear to be pre-cut for the fighting tops. Brass rod is included as well, but it's not pre-cut.
Three photo-etch frets are included. While not relief etched, the quality is good. One fret contains only railings, a second has the photo-etching for the turret catapult, boat cranes and ladders, while a third contains parts for the aft crane, catapult and the boat racks.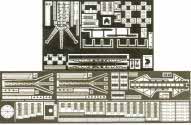 Now, to put all this together so it resembles a battleship, you need instructions. The instructions in this kit consist of two approximately legal sized pieces of paper, which have instructions on three of the four sides. The three sides that have instructions are broken down into thirds, each third having a panel (or sometimes two). They are broken down by sections such as "Resin/Metal Parts", "Foremast/Signal Bridge", "Mainmast", "Etch Parts Guide", "Parts Listing", etc. While I ordered an Oklahoma, my instructions indicate "Nevada Parts"...not "Oklahoma Parts". I'm not sure if this is a mistake, or the Nevada parts are that much different from Oklahoma. There is no ships history or line drawing included and there is minimal text included with the instructions - stuff that seems pretty standard. I went back and looked at my instructions for the ISW Arkansas, Nashville and Langley. The instructions for those kits are better than the instructions found in this kit. The instructions are poor - and definitely the weakest part of the kit. That being said, at least this kit has instructions, unlike the BWN Lexington that cost three times the price and had any.
Conclusion
Iron Shipwright has a large selection of resin ships. Ships that I really want to build, like the late-war California, the Langley or like this kit - the Oklahoma. Their prices are reasonable and their customer service is legendary. That being said, if you talk to other ship modelers, their reputation for quality lags behind some of the other manufacturers. With this release, it looks like Iron Shipwright has stepped it up a notch. Of all the ISW kits that I have seen, this is clearly the best one. Oklahoma is a long-neglected subject in 1/350th scale, and this one fills the gap nicely, at a reasonable price - for resin. The only drawback - albeit a significant one - to this kit is the instruction. I purchased mine direct from Iron Shipwright, but it's available from vendors as well.

The verdict:

Recommended
USS Oklahoma (BB-37) Links
USS Oklahoma Home Port
US Navy Historical Center's Oklahoma Page
---