1/700 Aircraft set #1
by White Ensign Models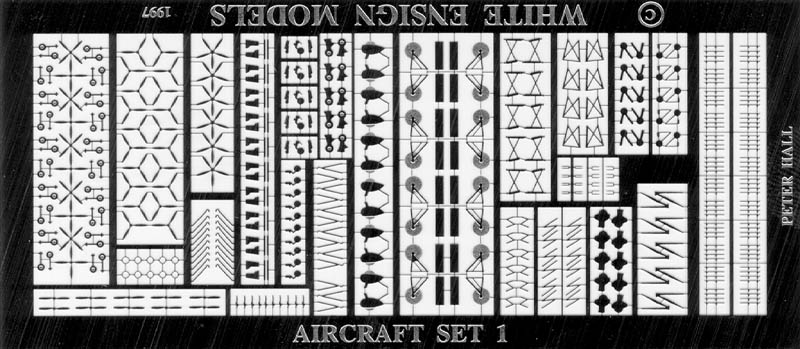 The WEM Airstrike 700 line is quite extensive and as nice as some of those aircraft are, they could still benefit from a good PE set. Well this has just about everything except the kitchen sink! You should be able to find detail parts for the virtually any WEM aircraft as well as some of the plastic molded ones included in most aircraft carrier kits.

Included in this set:
Four bladed props & single oleo undercarriage legs
Three bladed props
Five bladed props
Scariff rings
Single bar arrester hooks
Fighter and medium bomber undercarriage doors
Harrier undercarriage
Albacore undercarriage
Jet nose wheel
Pintle mounted machine guns
"V" arrester hooks
Large spatted undercarriage for Ju-52, SM-81
Heavy bomber undercarriage and doors
Seaplane float struts
Sunderland wingtip float struts
Twin machine gun barrels for quad rea turrets
Twin machine gun barrels for twin turrets
Biplane cabane struts
"Z" interplane struts
Small spatted undercarriage for Stuka
Swordfish/Walrus type undercarriage
Early biplane fighter undercarriage
"V" interplane struts
Rocket rails or misc. pipes
The one thing missing with this set, is it's lack of detailed instructions. It would be nice to see placement diagrams for some of the items listed above. But this is still a great set with more than enough parts to detail out an air wings.