1/350 HMS Hood
Ultimate Photo Etch Set
by White Ensign models
The new Trumpeter Hood has been one of the most anticipated 1/350 kits to hit the market. Not long after the kit hit the market the folks at White Ensign Models were the first to release a photo etch set. White Ensign may have had an unfair advantage as they had the most accurate and detailed Hood available in their fine resin kit, now out of production. That kit had photo etch with it, but rather than dust off that old set, their chief designer Peter Hall, set out to produce an even better set incorporating the very latest in highly detailed relief etching. This set lives up to the standard of quality that we have come to enjoy from White Ensign Models.
Fret 1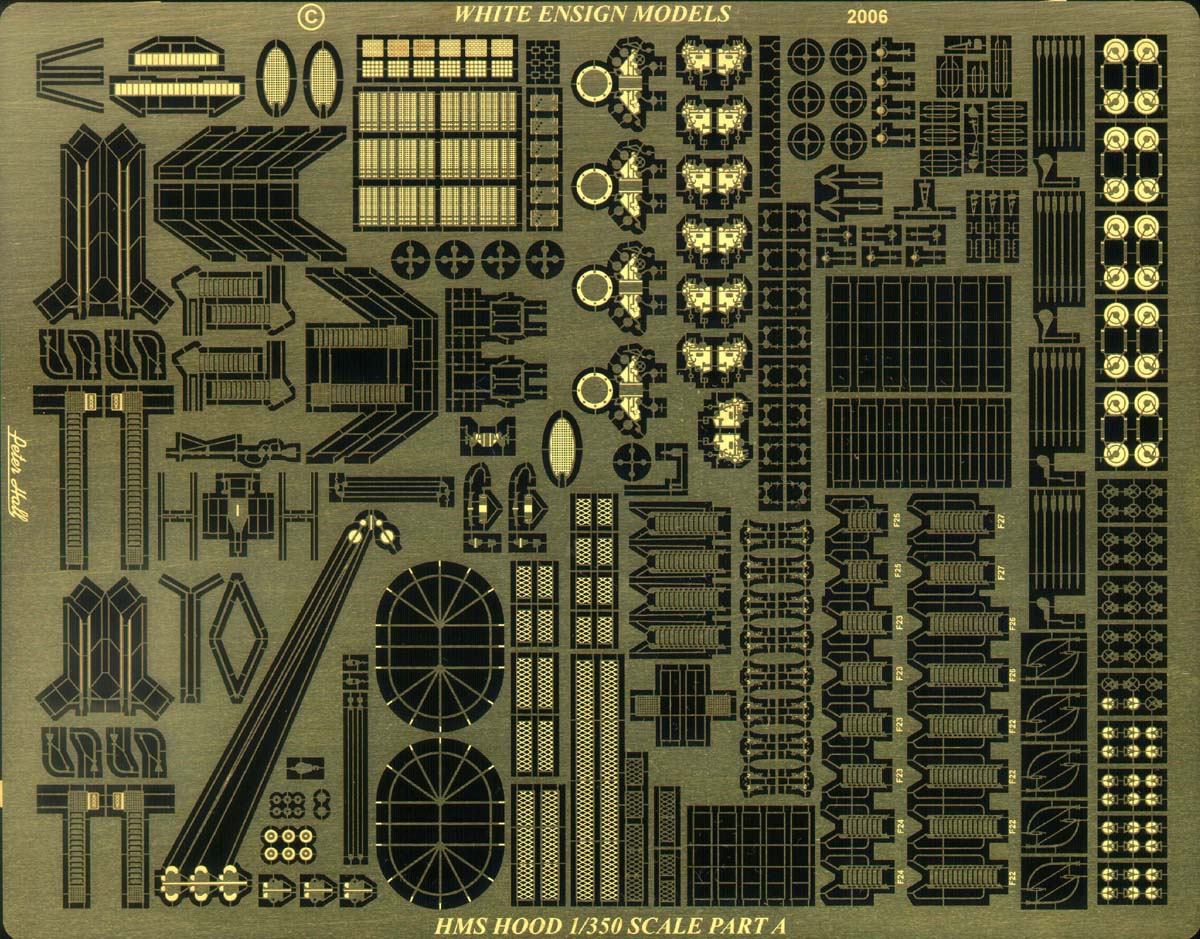 Click to enlarge images
The first fret is relief etched on a 5-1/2" x 7" .004 brass sheet. It includes many of the typical ship details such as funnel grills, and cable reels. Railings and ladders and other standard parts are included throughout. But what really makes this set is the many super detailing items such as the .5" MG Fittings and the 4" Gun parts, the etching on these are really well done. The UP launchers fittings are for the insane detailers. The replacement rigging details are well done and are a vast improvement over the thick plastic kit parts.

This fret includes:

Forward Director Arm Stays
284 Gunnery Radar Antenna
279 Radar Antenna Mast
279 Radar Antennas
279 Radar Antenna Mast Platform
Wireless House Antennas (Short)
Spotting Top Anenmonmeter
Optical AA Director
Semaphores
10" Signaling Lamps
9" Rangefinder
40" Searchlight Lens Crosses
20" Signaling Lamps
UP Launcher Fittings
.5" Machine Gun Fittings
4" Gun Fuze Setting Machine
4" Gun Layers' Seats
4" HA/LA Gun Mounting Plates
4" HA/LA Gun Mounting Lights

Paravane Parts
Crane Hook Replacements
Crane Hook Pulley Spacers
Main Crane Rigging (Pre-formed)
Main Crane Pulley Blocks
Main Crane Pulley Wheels
Main Crane Pulley Wheel Spacers
Small Boat Crane Hooks
Small Boat Crane Rigging
Night Lifebouys
Night Lifebouy Racks
Funnel Cap Grills
Vent Grills of various types
Leadsmans' Platforms
Admiral's Barge Fittings
35' Motor Boat Fittings
25' Motor Boat Fittings
27' Whaler Oars and Rudders
32' Cutter Oars and Rudder

Bulkhead and Superstructure Mounted Cordage Reels
Hawse Pipe Cover Grills
Hawser Reels
Accommodation Ladder Handrails
Accommodation Ladders (Long and Short)
Ladder Opening Railings
Fore Deck Ladder Handrails
Fore Deck Ladders
Quarterdeck Ladders
Accommodation Ladder Davits
Quarterdeck Ladder Handrails
Accommodation Ladder Handrails (Short)
Superstructure Ladders
Inclined Ladders for Shelter Deck
Loading Davits
Forward Loading Davit Rigging
Close ups of the fret details
Fret 2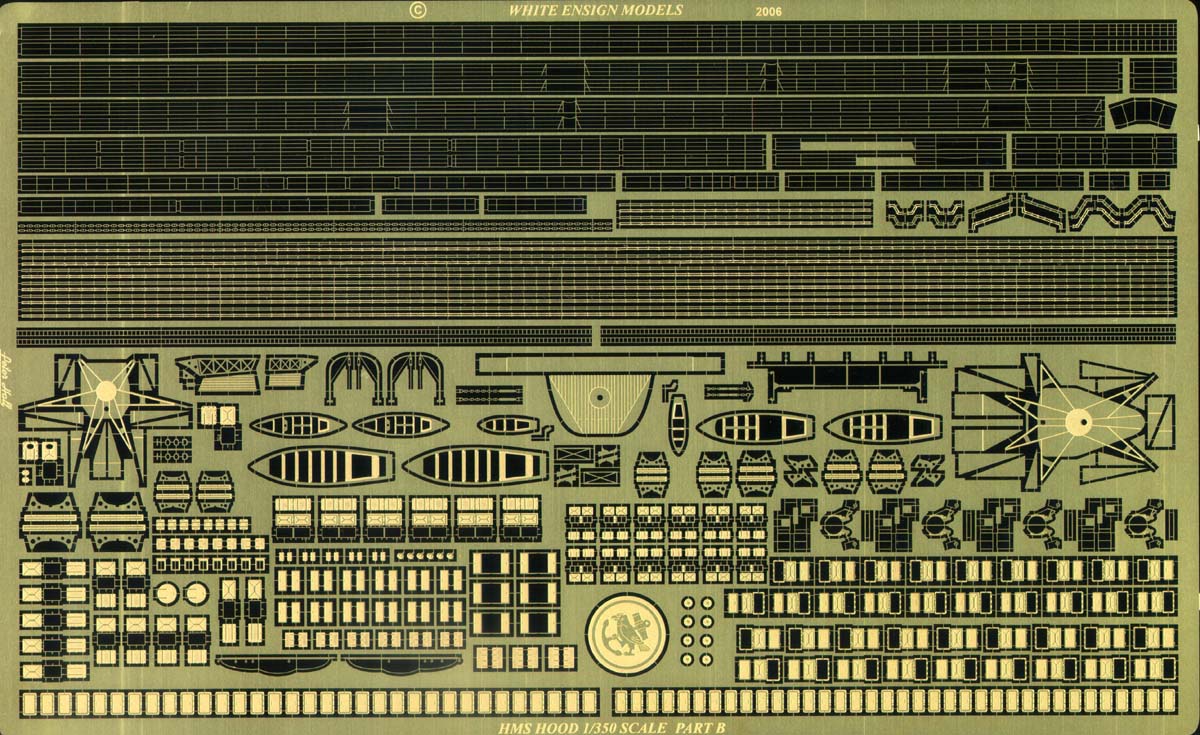 Close ups of the fret details

This second fret is larger measuring 7" x 11-1/4" also relief etched but using .055 brass. The doors and hatches are very sharply etched with some really intricate door frame detailing. The starfish assemblies look great and will look fantastic when assembled. They will vastly improve the scale appearance of your Hood. Even the boat cradles look great, it's almost a shame to cover them up by placing the ships boats in them. But at least the boats you place their will look even better with the details that will spruce them up as well.

Spare 2 and 3 Bar Railings
Custom Fitted Railings for most Platforms
Bow Railings
Forward .5" MG Platform railing
.5" MG Ammo Stowage Hatches
8 Barreled Pom-Pom Railings and Fittings
Anchor Chain
Anchor Chain Stoppers
Degaussing Cables
Vertical Ladders
Aft 4" Gun Splinter Shields
Aft 4" Gun Platform Replacement
Anchor Chain Blake Stoppers
Spotting Top Wire Antenna Spreader
Tompion Covers

Mainmast Starfish Assembly
Foremast Starfish Assembly
Quarterdeck Hatch Assembly
Quarterdeck Hatch Assembly
Ships Name Letters
'X' Turret Platforms
Wide Pattern Watertight Doors open and closed
Standard Pattern Watertight Doors Open and Closed
Foredeck Loading Hatch Assembly
Admirals Window Hatch Inners, Outers, and Frames
Ammo Loading Hatch Assembly
Deck and Vent Hatches
Signal Halyard Trunk Hatches

27' Whaler Davits
27' Whaler Thwarts
42' Sailing Launch Thwarts
42' Sailing Launch Cradles
16' Dinghy Thwarts
16' Dinghy Cradles
32' Cutter Thwarts
32' Cutter Cradles
25' Motor Boat Cradles
The instructions are very extensive 9 pages of well detailed drawings and assembly guides. They are very well written and illustrated and leave little doubt about how the brass works in with the rest of the parts of the kit. These are some of the best instructions on the market.
Conclusions: The etching and attention to detail on this set is extremely good. A definite must have for a serious Hood builder. This is set number PE 3514 with a price of £42.51, or about 80 US Dollars. Well worth it when you consider how this set will take your model and make it a masterpiece.