1/350 SOVREMENNY
Photo etch set by White Ensign models
The new 1/350 Sovremenny class destroyer kit from Trumpeter has been very popular. It is a nice kit right out of the box, perhaps the best new plastic kit in 1/350. But without a little aftermarket help, it's just another plastic kit. Well, it's White Ensign Models to the rescue again with another extensive photo etch sets for this kit. This one is jam packed with everything from railings, and radars, to mast parts and hatches. There are two different frets in the set, each one measuring 3-3/4" x 8"
Fret 1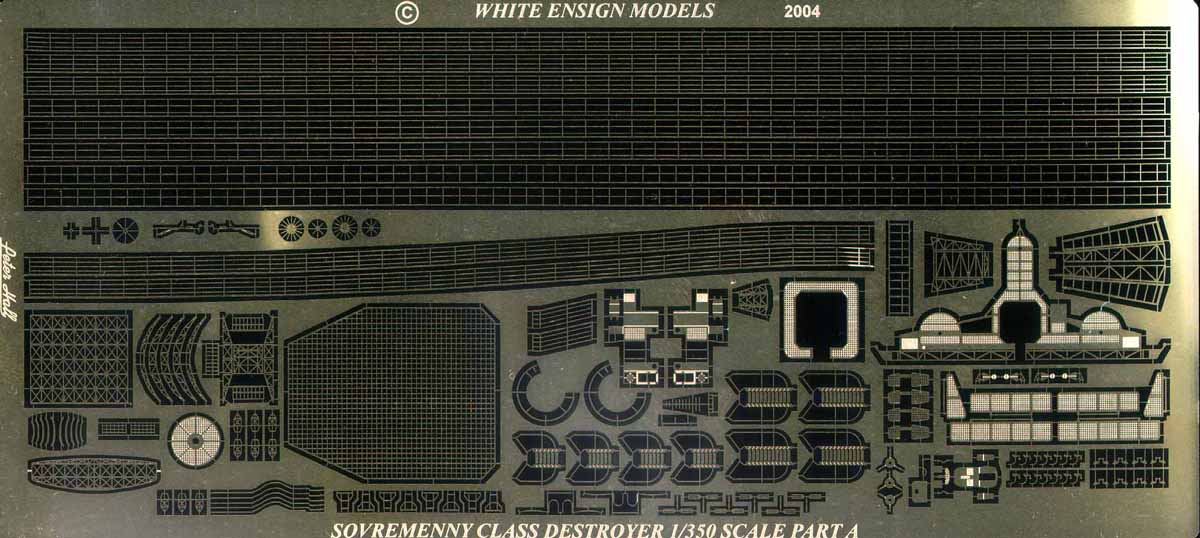 Click to enlarge images
The first fret is relief etched to give a 3D appearance. This is really apparent on the safety netting and perforated mesh platforms. The parts on this set are custom designed for the kit. One nice touch it the cockpit interior designed to enhance the clear plastic helo supplied with the Trumpeter kit. Photo etch rotor blades and a nice counter rotating hub assembly will make this little helo a kit in itself. The enormous Top Steer Radar assembly is really nice integrating with some of the kit parts. The Fregat Radar assembly is equally nice with a nice perforated platform for the base.
Close ups of the fret details
Fret 2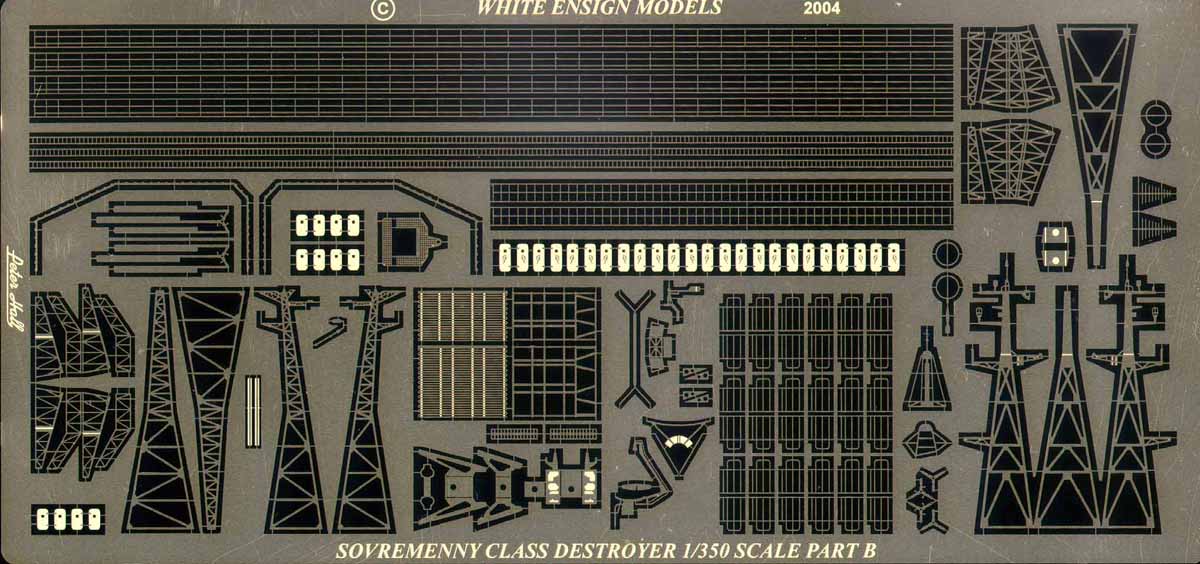 Close ups of the fret details

This second fret is slightly thicker than the first to give strength to the structural members. There are two main different main mast options for the 956 or 956E types. This will leave you with some extra items for your spare parts box.
Included in the set: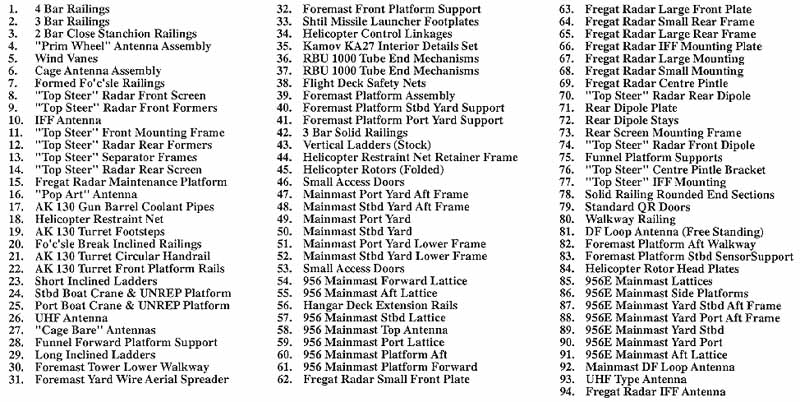 The instructions are very extensive as well, with a parts list and legend to identify the parts on the frets. The major subassemblies are well illustrated and where parts are integrated with kit supplied parts they are noted. Alternate assemblies are shown for some of the variations that the ships went through. All in all, the illustrations are clear and informative and these are among the best instructions on the market today.
Conclusions: This is an excellent photo etch set, the etching is extremely fine and the virtually every possible part you would need is included. Since the set is made specifically for the Trumpeter kit, you cant go wrong with it. This set retails for $45.93 US or £25.49 GBP, making a good price for such an extensive photo etch set. If you want to take your kit to the next level this set is the way to do it.