1/600 Moskva / Leningrad detail set
by White Ensign Models
Reviewed by Rusty White
Peter Hall sent me the new WEM 1/600 Moskva / Leningrad detail set for the Airfix / Heller Moskva kit. The Moskva has always been one my favorite modern warships. However, I have never built one of the kits hoping someone, someday would issue a detail set for it. I have considered doing just that in past as a limited production run under the Flagship Models line, so I had already done research on the ship with that in mind. When I heard that WEM was going to release a set I was ecstatic. Since I have two Moskvas in my closet, I will be putting this set to good use. The set is the usual WEM quality with raised etched relief on most of the parts. The instructions are just great and very easy to read and follow. They are well illustrated with 3D drawings making them very easy to read.
The set comes with enough parts to really detail the model right. Since I had done research on this model for a set, I knew what I would
personally put in my own set. Peter has done that and a lot more. A nice touch was the addition of bulkhead details (hatches, hangar bay doors and others) that the kit so badly needed. The thinnest lines on the rails and Top Sail radar are exquisitely thin. Also included with the set are details to really jazz up the Hormone helicopters rear stabilizers, rotors and landing gear make the little helos masterpieces in miniature. The Headlight fire control radar is the jewel of the set (8 parts to this alone). The nameplates common to Soviet warships are also included for Moskva and Leningrad.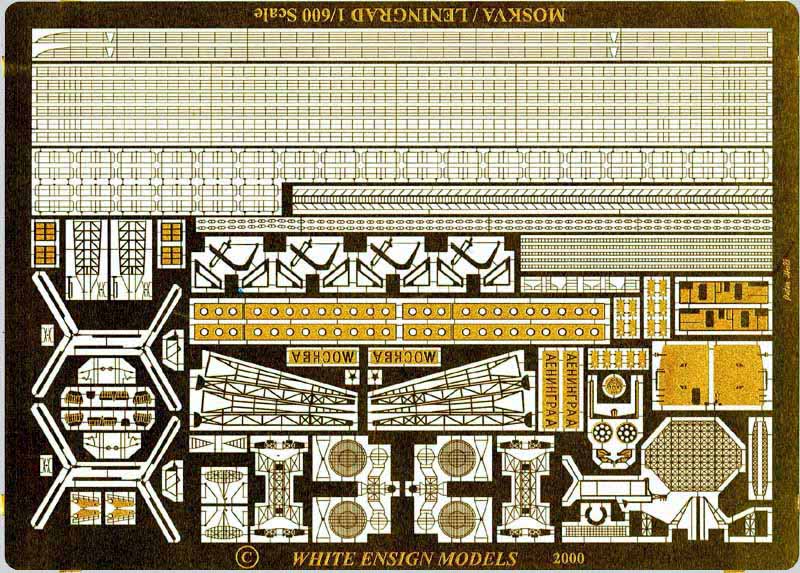 In short, this is an absolutely wonderful detail set for this long neglected kit. Once all theses details are added, it should make the old Moskva into a model you can be proud of and will hold its own in any contest. The only shortcoming to the set (in my opinion) is the lack of helicopter rotors. I'm sure due to space restrictions, there are only enough details for two Hormone helicopters. I like to load up the deck on my model, so I'll use two sets for mine. As a photo etch designer and manufacturer, I recommend this set highly. Well done!
Instruction Sheets





Click to enlarge
Back to ModelWarships.com reviews

---

© ModelWarships.com