White Ensign 1/350 USS Hornet Interior Set
Just when you thought you had gotten every possible thing you could for the new Trumpeter 1/350 Hornet, along comes White Ensign with another set that just boggles the mind. The latest addition to their line of photoetched detail parts is set No. 3541, Hornet Hangar Details, a large single fret, double relief-etched, providing the modeler with the opportunity to add the flight deck support girders on the hangar deck, something is quite absent in the kit detail if the modeler chooses to open the hangar doors.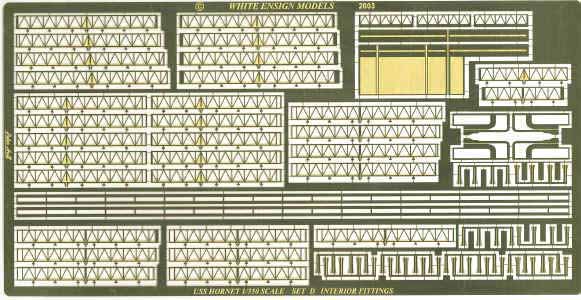 Click on the image for larger photo
In addition to providing the girders and roof support structures for the hangar areas, White Ensign has also provided details for the elevator areas, including mid-elevator surround supports, and the midships elevator surround. Ventilation ducts, louvres, and the center beam complete the photo etched fret.
Instructions come in the form of seven pages of detailed drawings, including a template for detailing the side walls of the hangar deck with plastic card (not included, but readily available from Plastruct or Evergreen). Exploded view drawings eliminate any guesswork as to the parts assembly. This is an extemely detailed set, and it looks intimidating. However, assembly is straightforward, any bends that need to be made to the brass parts are simple straight bends, and someone with a little basic experience with photoetched brass parts should have no trouble with it. There's no question it will certainly take your Hornet to yet another level.
Thank you to White Ensign Models for providing this sample for review.
Reviewed by Jeff Herne