The latest 1/700 release from Tom's Modelworks is designed to fit the Japanese Battleships Yamato and Musashi. As with the other recent releases this one features very fine etching and a wealth of detail parts to satisfy the most demanding super detail nuts.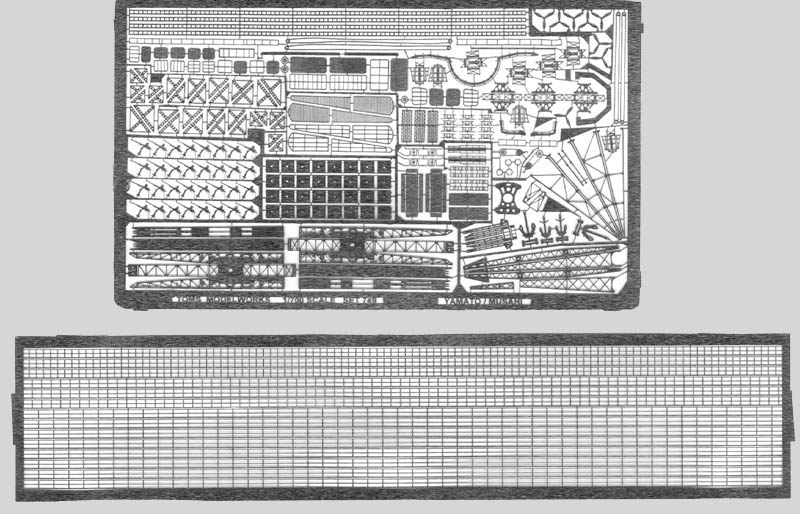 Note: image scanned in B&W to allow higher resolution without increasing file size.
The set includes the following parts:
Main deck and bridge level rails.
Anchors.
Aircraft deck grills.
Aircraft catapults.
Aircraft launching cradles and standby trolleys.
Aircraft props.
Aircraft handling crane tower, boom, and hooks.
Aircraft handling base, counter boom and pulleys.
Crane pulley cables.
Replacement walkway for upper bridge level.
Forward range finder platforms and rails.
Aft range finder platforms and rails.
Type 13 radar.
Main radar assembly.
Radio direction finder loops.
replacement braces for molded parts.
Misc. vents and grills.
Fore deck breakwater.
Walkway rails.
Hanger deck bracing.
25 mm guns.
Vertical ladders.
The instructions show the parts and the kits they work on. In addition to the parts list there are notes that show which plastic parts get replaced and nice diagrams showing correct placement of parts.
This set reminds me of a scaled down 1/350 set, as some of the details are not generally included in 700 scale. I'm glad that Tom's has included them in this set as they will make your Battleship really stand out. This set retails for $14.00 US.