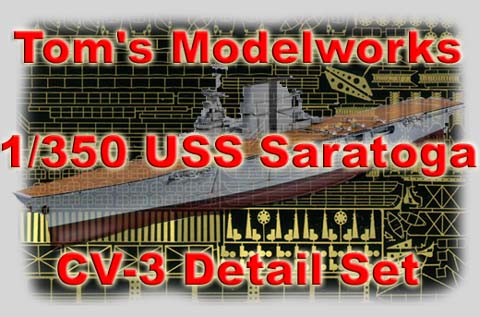 Reviewed by Timothy Dike
If your building the new Trumpeter 1/350 USS Saratoga you need to take a look at this set. It offers a very affordable way to upgrade your Sara. This set provides most all of the ship specific parts on two frets.
FRET 1
Fret 1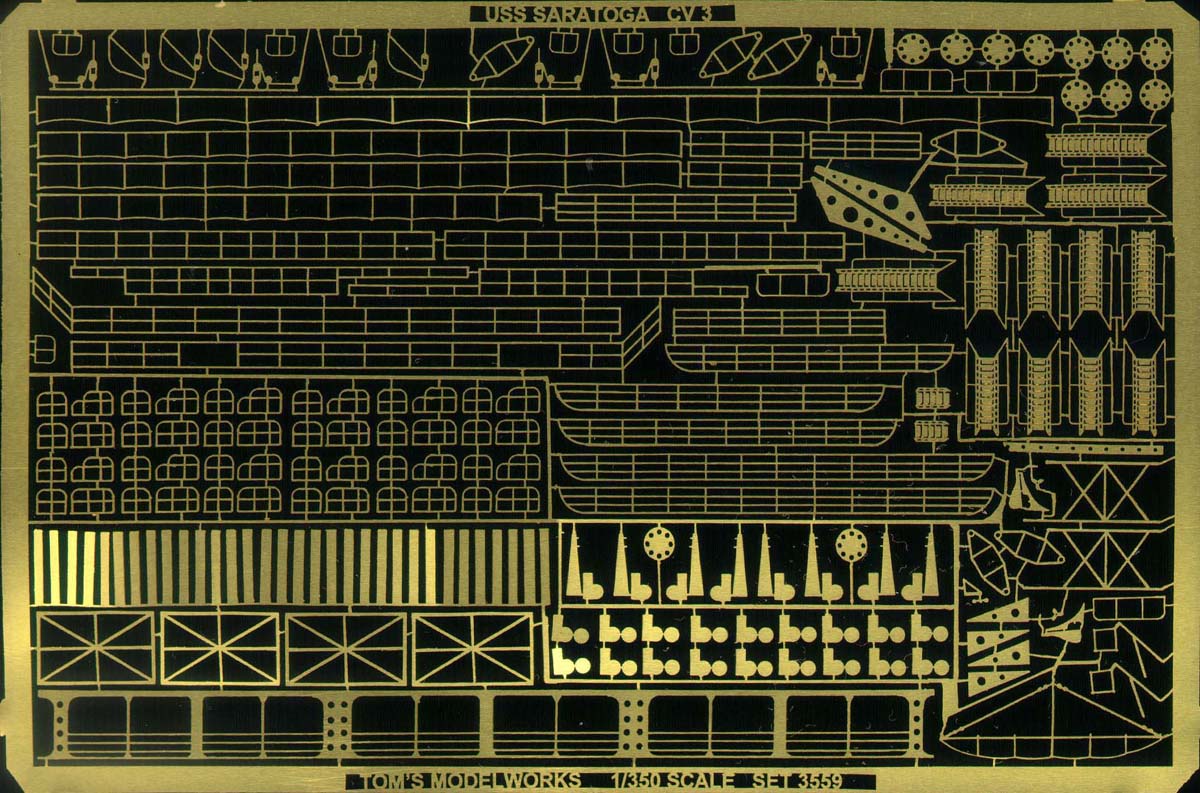 Click to enlarge images

The first fret includes a new boat support to replace the clunky one on the kit. Scale size support braces of several styles, and plenty of custom fit railings.

Other items on this fret include:
Inclined ladders
Flight deck wind breaks
Boat pulleys and support cables
Turret rails
5" gun mount rails
Funnel cap grills
Hose reels
Platform bracing
Crane support parts
Boat handrails, rudders, and props
Yardarms
Arresting cable plates
Crash barrier cable supports
Direction finder loop
Elevator safety railing
Close ups of the fret details
FRET 2
The second fret is composed of the longer railings and ladders and safety nets. The railings are of two and three bar style, and the nets around the flight deck.
Fret 2

Close ups of the fret details
INSTRUCTIONS
The instructions are four pages and list all the parts. Some have assembly notes and others have drawings. But there could be a whole lot more provided. Some additional views, in perspective would go a long way towards showing the correct placement of all the parts.
CONCLUSIONS
To keep the cost of the set down, some items such as watertight doors and floater net baskets are omitted. The Trumpeter kit has decent doors so not all modelers will want to take the time to replace them. So in this case you won't be paying for parts you will not use. This is set #3559 CV-3 USS SARATOGA with a list price of $32.00. That makes it very affordable for the average modeler who wants to dress up his Sara without spending too much. You can buy this set online direct from Tom's Modelworks using the secure shopping cart.