The Fletcher class destroyer has been one of the most popular kits in 1/350 scale. Even more so now that Trumpeter has releases a square bridge version, the USS The Sullivans. The kit is a little lacking in the detail department. Tom Harrison of Toms Modelworks has a new set to address the short comings of that kit.
The set consists of two brass frets. The first fret contains all of the typical parts we have come to expect in a photo etch set. In addition there are a number of cool detail parts that will really make your destroyer stand out.
Fret A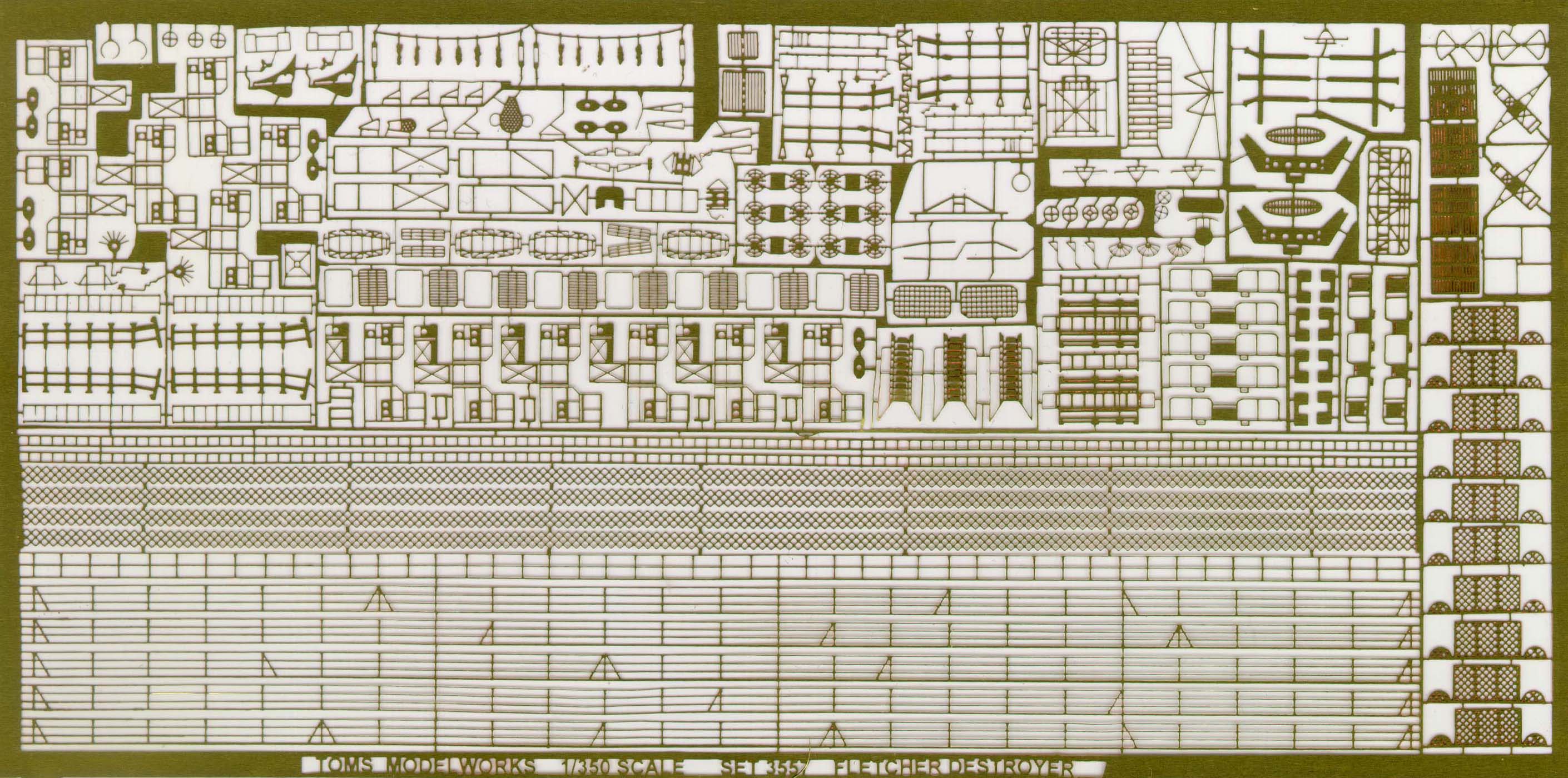 Close ups of the fret

Some of the parts included on the fret are:

2 and 3 bar railings with separate safety netting.
inclined and vertical ladders.
Deck cable reels.
Life raft netting.
Boat details.
Funnel caps.
Prop guards.
SG Radar and platforms
SA, SC, SR, and SC-2 radar antenna.
Mk 12, and Mk 22 fire control radar with Mod 0 and Mod 4.
Mk 22 support and base.
ECM, RCM, and Wipe antenna.
RDF and other small antennas.
TDY Jammer.

20 mm gun base and shields.
40 mm gun sights, rails, and seats for twin and quad mounts.
Stern depth charge storage and roller racks.
K-gun depth charge racks and davits.
K-gun arbors.
Funnels cooling grills and base.
Life raft racks.
Funnel and siren platform.
Various spreaders.
Fighting lights for the mast.
Floatation racks.
Stokes litters with center slats.
Funnel spreaders
The second fret includes most of the weapons parts. The 20 mm gun bases are especially nice. Seats and gun sights will help add detail to those otherwise clunky 40 mm gun mounts.

Fret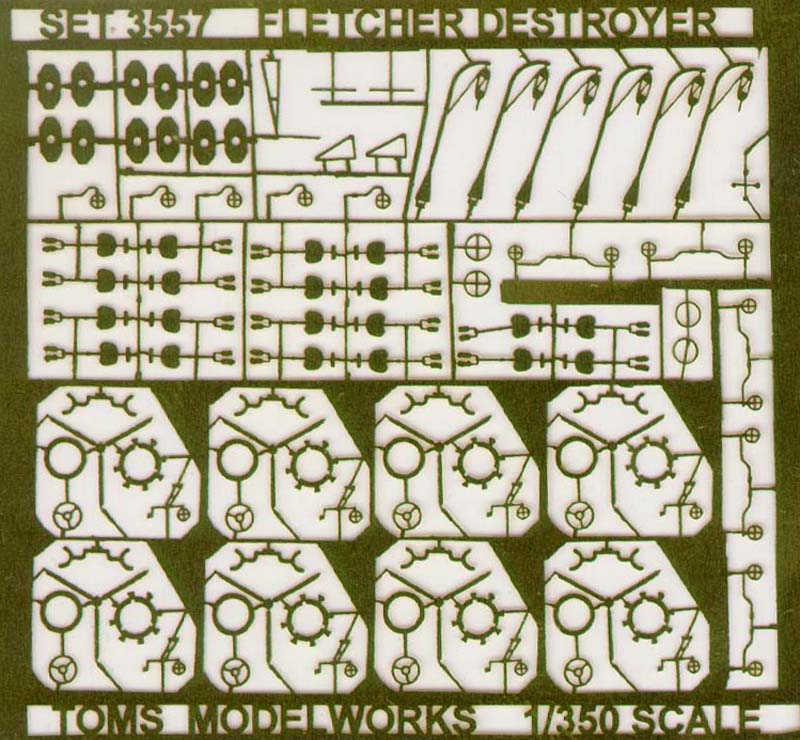 The instructions are five pages with parts lists and some illustrations. These are pretty good, but what is needed is some illustrations that show where these parts go. Some of this is covered, such as k-guns, depth charge roller racks, and many mast parts. But there is room for improvement.
Conclusions:
The parts are pretty fine and most are very thin, but some were a bit over etched. This fret could benefit from some relief etching in places. But there are many really nice features in this set that I really like. The whale boat pulleys with rigging and 20 mm gun details are some that really stand out. This is set #3557 Late War Fletcher for $24.00, making it a very economical set and a good value. Click the logo to order online from Tom's Modelworks.