1/350 Scale Cable Reel Set
by Gold Medal models
Assorted Cable Reels (1/350) - 350-23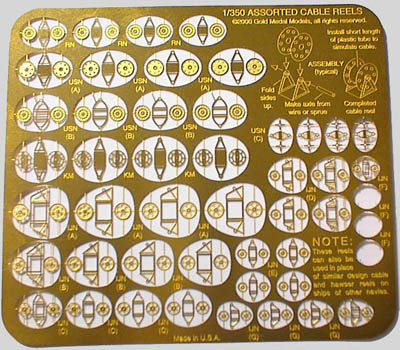 When your working in 1/350 Scale you have the luxury of super detailing out your ships to the extreme. One of the options available to you is Gold medal Models Cable Reels. Somehow those molded on cylinders that are barely recognizable just don't cut it anymore. Especially when you have Photo etched replacements available to you. It is not possible to produce an accurate cable reel in plastic or resin that can compare to these. Add a little cable partially wound around the spool and your ship will come to life. If you want to know what happened to the parts removed from the fret shown check out the way they make the Prince of Wales look with them installed!
This set includes twelve different styles, four reels of each style. They are in USN, IJN, RN, and KM designs for a total of 48 cable reels. These parts are Relief etched in 3-D for extra detail, giving them extra depth not often seen in flat etchings. Note the instructions etched right onto the sheet. These sets can be used with any 1/350 scale ships and there is enough to do a whole fleet, so I recommend that you keep a set handy.

---

© ModelWarships.com