1/700 20 mm guns and Bases
Photo etch set by Corsair Armada Productions
Reviewed by Timothy Dike
When I reviewed the Corsair Armada USS Detroit I mentioned the 20 mm guns that are included in that kit. Well they are available sepearately now and they are the best on the market.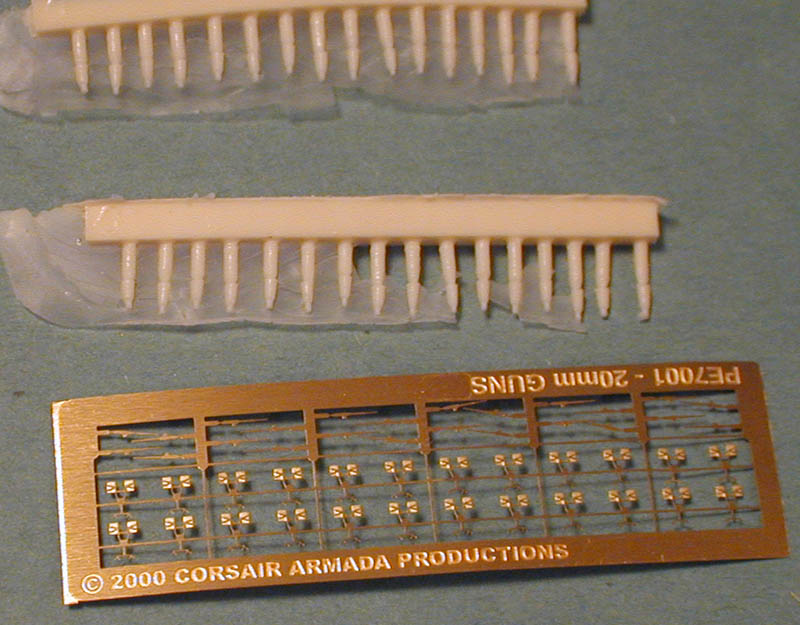 This set uses a resin base to mount the gun assembly onto. The brass is relief etched and as you can see in the photo above simulates the bracing on the shields well. The shields fold up in a cradle shape and mount on the resin base. The gun barrel is a little two dimensional but this is barely noticable, especially when you have the option of mounting the gun in any position from horizontal to vertical.
Mike Czibovic of Corsair Armada Productions, suggests this tip to add some bulk to the 20mm guns, "I dip the rear half of the gun in crazy glue (after they've been painted) and attach them like that.

The extra glue adds bulk, makes them stick better, and blends in with the rest of the gun once a final clear dullcote is applied."
When I first did my review this set had no instructions, but a simple sheet is now included showing how the parts fit together. I hope to use this set on my Cushing buildup, but didn't have time to include buildup shots at this time.




Back to ModelWarships.com reviews
---

© ModelWarships.com