AKA Models Detail Up Parts
1/700 25mm Single AA Guns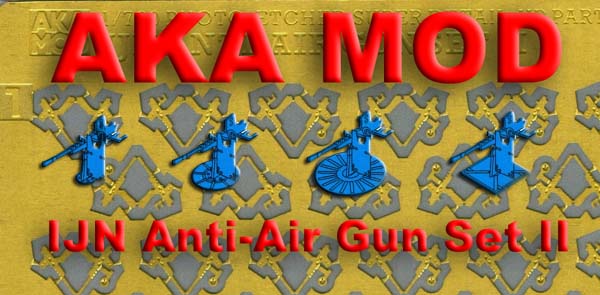 Reviewed March 2016
by Martin J Quinn

AKA Models has released several detai up sets for IJN ships in 1/700. Set PD 7002 is a set of single 25mm anti-aircraft guns.
Set PD7002 consists of 48 single 25mm photo-etched guns. Included in the set are 4 different kinds of mounting plates and 32 gun shields.

The 48 photo-etch 25mm single AA guns are double sided, and are folded together to give them more of a 3D appearance. There are enough shields for 32 guns. Also included are four different types of deck mounting plates, for is different ships or even different locations on the same ship. According to IJN guru Dan Kaplan, the round plates were permanent, the square variety were moveable. As the war dragged on, more mounts were needed, and for greater flexibility, the were likely moveable. Check your references before choosing your mounting plate and location.

click images
to enlarge
INSTRUCTIONS
The instructions for both sets are a simple, small piece of paper included in the package. The instructions show you how to fold the guns, mount then on the plates and where the shields go.
Conclusions:
Some modelers may prefer the new 3D printed or new injection molded AA guns, while other who prefer photo-etch will like the relief etched detail on these. While the instructions could be better these are good quality photo-etch parts, and will be useful sets for modelers looking to super detail their Imperial Japanese Navy warships.

Set PD7002 is 1/700 IJN Anti-AIr Set II, and retails for $8.95. Available from sponsors of this board. Thanks to AKAModel for the review samples.
---

© ModelWarships.com