Mission
The RC-135 reconnaissance aircraft is an extensively modified C-135. The aircraft's modifications are primarily related to its on-board sensor suite, which allows the mission crew to detect, identify and geolocate signals throughout the electromagnetic spectrum. The mission crew can then forward gathered information in a variety of formats to a wide range of consumers via Rivet Joint's extensive communications suite.
The interior seats 32 people, including the cockpit crew, electronic warfare officers, intelligence operators and in-flight maintenance technicians.
Background
The current RC-135 fleet is the latest iteration of modifications to this pool of –135 aircraft going back to 1964. Initially employed by Strategic Air Command to satisfy nationally tasked intelligence collection requirements, the RC-135 fleet has also participated in every sizable armed conflict
involving U.S. assets during its tenure. RC-135s were present supporting operations in Vietnam, the Mediterranean for Operation El Dorado Canyon, Grenada for Operation Urgent Fury, Panama for Operation Just Cause, and Southwest Asia for Operations Desert Shield and Desert Storm. RC-135s have maintained a constant presence in both Southwest Asia and in the area of the
Balkans since the early 1990s.
All RC-135s are assigned to Air Combat Command. The RC-135 is permanently based at Offutt Air Force Base, Neb. and operated by the 55th Wing, using various forward deployment locations worldwide.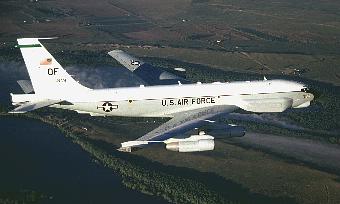 Specifications
Primary Function: Reconnaissance
Contractor: Boeing Aerospace Company
Engines: 4 Pratt-Whitney TF33-P-9 or TF33-P-5 Turbofan Engines
Thrust: 16,000 pounds per engine
Dimensions: Length 140ft 6in, Span 131ft, Height 42ft.
Max Takeoff Weight: Gross 299,000 lbs.
Accommodations: 4 Flight crew, and mission essential personnel.
Performance: 500 mph, Range unlimited.