Master Model 1/700 USN 8"/55 (20.3cm) Mark 12 Barrels (9 pcs)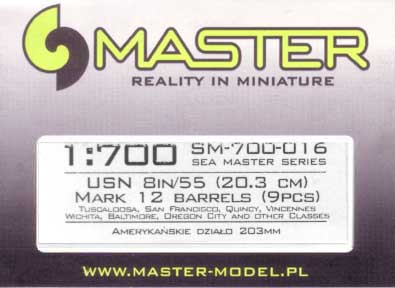 by Sean Hert
The 8"/55 was the primary armament for heavy cruisers in the USN during World War 2. Issued in numerous variants, the Mark 12 was used in the later New Orleans class cruisers (Tuscaloosa, San Francisco, Quincy, Vincennes), Wichita, Baltimore and Oregon City class/sub-classes, in either triple or three-gun turrets.

INSTRUCTIONS
CONCLUSIONS
It is great to have 1/700 barrel upgrades, complete with open muzzles and easy to mount. These are recommended for any plastic or resin USN cruiser needing a barrel upgrade.
This pack of barrels from Master Model #SM-700-016, are priced at $9.95 and are available now.
Master Products are distributed in the US by Georgetown Hobbies and are also available at the following sponsors.
---

© ModelWarships.com