Master Model 1/700 IJN 36cm/45 (14in) Vickers and 41st Year Types barrels (8pcs)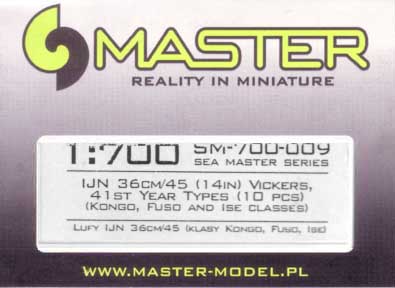 The IJN 36cm/45 (14in) naval rifle was used in the Kongo (Hiei, Haruna, Kirishima), Fuso (Yamashiro), and Ise (Hyuga) classes of IJN battleships.

INSTRUCTIONS
CONCLUSIONS
There are numerous kits old and new, by numerous manufacturers that will profit from the addition of these fine barrels.
This pack of barrels from Master Model #SM-700-09, and should be available now.
Master Products are distributed in the US by Georgetown Hobbies and are also available at the following stores.
---

© ModelWarships.com