Master Model 1/700 IJN 12.7cm/40 (5") Type 89 (12 pcs)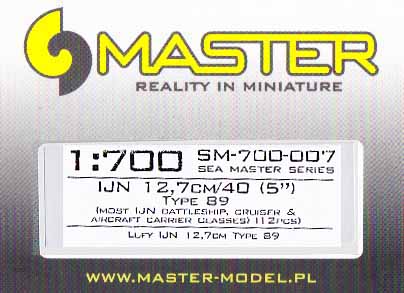 by Sean Hert
This gun served as the heavy anti-aircraft gun on most major IJN combatants in World War Two. This gun was placed in twin mounts of various configurations, and singly on a few submarines and escorts, it was also seen in some short installations. A fast-firing weapon, limited by the low muzzle velocity which left its range wanting.

INSTRUCTIONS

These barrels have no mounting post.
---
This pack of barrels from Master are a good upgrade for most of your IJN warships. Some of the barrels have a burr left on them from the machining process, and will require a touch of sandpaper to clean up.
This pack of barrels from Master Model #SM-700-007, are priced at $10.95 and are available now.
Modelwarships thanks Master Models for this review sample.
---

© ModelWarships.com