Master Model 1/350 IJN 46cm/45 (18.1") Type 94 Main Gun Barrels (9pcs)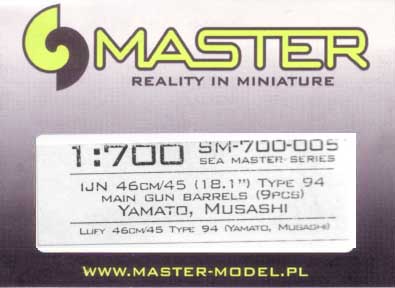 The IJN 46cm/45 (18.1") Type 94 is most famous for having been the largest gun ever afloat. These massive naval rifles were the main guns for the Yamato and her sister-ship Musashi. Mounted in triple turrets, 2 forward and 1 aft, these 9 guns were quite formidable.

Master Model from Poland has released a set of 9 machined 46cm barrels. The barrels come well packaged with card stiffener in the main bag and a page of printed instructions

INSTRUCTIONS
CONCLUSIONS
These barrels are up to Master's usual high standards, and will make a great upgrade for your Yamato or Musashi.
This pack of barrels from Master Model #SM-700-05, and should be available now.
Master Products are distributed in the US by Georgetown Hobbies and are also available at the following stores.
---

© ModelWarships.com