Master Model 1/350 Roma Armament Set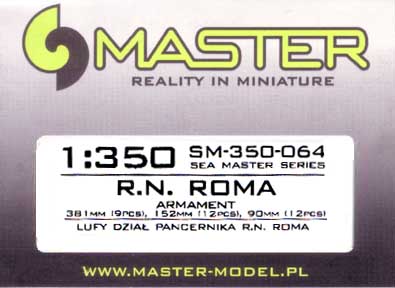 by Sean Hert
October 2012
Master Models' 1/350 Roma Armament Set for the Trumpeter 1/350 Roma, consists of 3 different sizes of barrel, one for each of the different primary gun calibers. There are nine of the 381mm main guns, three for each of the three triple turrets, as well as 12 of the 152mm barrels; three for each of the four secondary turrets. There are also 12 90mm barrels for he dedicated AA guns mounted amidships.This set does not include any small caliber AA guns.

381mm/50 (15") Model 1934

90mm/50 (3.5") Model 1939

INSTRUCTIONS
---
Master Model barrels continue to set the standard others compare themselves to. The decision to only include the barrels for the larger calibers is a good one; handling and installing the smaller 37mm/54 BREDA and 20mm/65 BREDA AA guns are not for every modeller.
This pack of barrels from Master Model #SM-350-064, is priced at $19.95 and is available now.
Master Model products are available from the following sponsors.
---

© ModelWarships.com