Master Model 1/350 German 20mm/65 C/30 (Early Type) Barrels (20 pcs)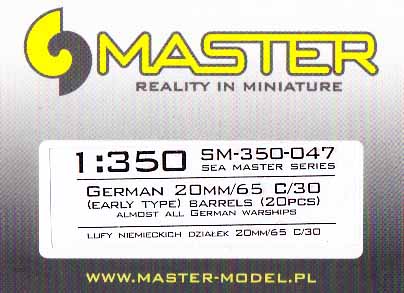 by Sean Hert
This AA machine gun was used on many German vessels in World War 2. This early mount was normally seen on a pedestal mount, singly or in twins. It featured a 20-round magazine, and was prone to multiple failures in operation. Most were replaced later with the superior C/38 weapon.

INSTRUCTIONS
---
The mounting post on the rear of these barrels is a little long and will probably need to be shortened. They are so tiny, however, that extra care will need to be exercised not to distort the rest of the barrel.
This pack of barrels from Master Model #SM-350-047, is priced at $10.95 and are available now.
Modelwarships thanks Master Models for this review sample. Master Models Products are distributed in the US by Georgetown Hobbies and are also available at the following sponsors.
---

© ModelWarships.com